Shimla Vs Manali Honeymoon 2022: Which Is Better For You And Why?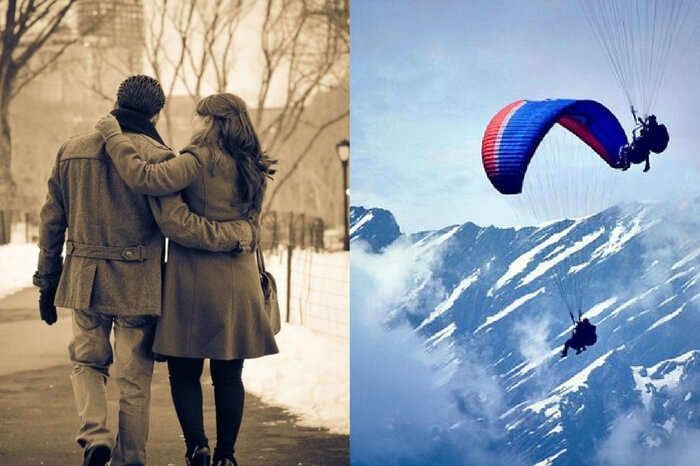 Geography And Topography
Both the places have a mountainous terrain due to which the weather is often cold. Both the places feature best of nature's creative finesse!
Landscapes Of Shimla
It is a year-round destination with snowy winter and pleasant summer. Mountains dotted with oak and deodar make Shimla an adorable beauty. The capital city of Himachal is an ideal choice for adventure and water activities in summer. Monsoon is not a good time to travel to Shimla because of frequent landslides caused by heavy rainfall and cloudbursts.
Landscapes Of Manali
At 6200 feet, Manali is certainly a popular honeymoon destination in Himachal Pradesh that boasts of imposing snow-capped peaks, rivers, waterfalls, and coniferous forest. Akin to Shimla, Manali experiences similar climatic conditions throughout the year. Which makes it 'the wide range of activities in Manali versus exciting locales of Shimla'.
Best Time To Visit On A Honeymoon
Hill stations have always been the top choices as honeymoon destinations. Choose a time that promises the experiences you two will cherish forever.
Best Time For Honeymoon In Shimla
For snow lovers, October – March is the best time to plan a honeymoon to Shimla. The hill town experiences heavy snowfall and the temperature remains between -2 to 8 degree celsius thus making conditions warm and cozy for honeymooners. Summers are pleasant with temperature usually falling between 15 to 30-degree celsius.
Best Time For Honeymoon In Manali
October – February and April – June considered as the best time to visit Manali for a honeymoon. The temperature during winters hovers between -3 to 5 degree celsius while in summer it usually remains between 15 to 25 degrees. Solang valley near Manali has ropeways and paragliding options that make a trip to Manali in summers look perfect.
Ideal Trip Duration And Cost
The trip duration may vary on the basis of your interests and budget. Here is the ideal duration for both the destinations and the average cost of their respective honeymoon packages:
Ideal duration for a Shimla honeymoon: 2 nights, 3 days
Average Shimla honeymoon package cost: INR 17,500 onwards
Ideal duration for a Manali honeymoon: 2 nights, 3 days
Average Manali honeymoon package cost: INR 13,000 onwards
Best Places To Visit For Honeymoon
Both the honeymoon destinations have an abundance of breathtaking scenic beauty. A romantic outing at these places exemplify love.
Best Places To Visit In Shimla For Honeymoon
A city endowed with the charm of British Raj, Shimla has that vital element of rustic charm embossed in its surroundings. Marvel the lush nature around at Naldehra Peak – one of the favorite turfs of Lord Curzon, the golf course at an altitude of 2000 meter plus looks stunning. 14 km from Shimla lies Kufri – a place that must be visited on your Shimla honeymoon trip. Mahasu Peak – the highest point in Kufri, makes for the prevalent attraction in Kufri. While Chail is 55 km from the city center that must be on your bucket list.
If a romantic walk amid the lush meadows in on your mind head to The Glen, and Annandale (5 km from Scandal Point that lies towards the end of The Mall promenade). The Ridge is again a perfect stretch to carry on those never ending conversations. Among others, Potter's Hill close to the Summer Hill region, and Mashobra (14 km from city) are the nearby attractions that can't be left alone. Last but not the least Bihargaon (4 km from the city) must be visited to get some breather from the bustling city crowd. It is one of the best-kept secrets of Himachal known for its splendid architecture.
Best Places To Visit In Manali For Honeymoon
If Shimla is distinguished for pristine nature and architecture of the bygone era, Manali known for temples, hot spring baths, cascading waterfalls and dreadful paths leading to the quaintness of nature. Rohtang Pass (51 km from Manali) is the most prominent attraction for honeymooners traveling to Manali, another cozy escape for adorable couples amid the snowfields where they spend maximum time fighting with snowballs and making a snowman. For adventure loving couples Solang valley is the place to try paragliding. Hidimba Devi Temple, Manikaran Hot Springs, Jogini Falls, Rahala Waterfalls are the places to marvel the true wonder of nature at their prime.
Places like Van Vihar is a 20-minute trail made for honeymooners who can walk hand in hand for hours into the welcome formation made by lush green forest on either side of the road. Save a date for Kullu Valley, and Gulaba – places that picture-postcard appearance. Sum up your honeymoon trip with Nehru Kothi (15 km from Manali), this place has some fascinating landscapes and great views of Beas for you. Manalsu Stream – 15 minutes from Old Manali is the place to be with a perfect set up and all the horses and sheep around.
Best Things To Do For Couples
Both – Shimla and Manali have a plethora of activities that couples can engage in. Reach the paramount of love as you indulge in heartwarming activities in the hills!
Best Things To Do For Couples In Shimla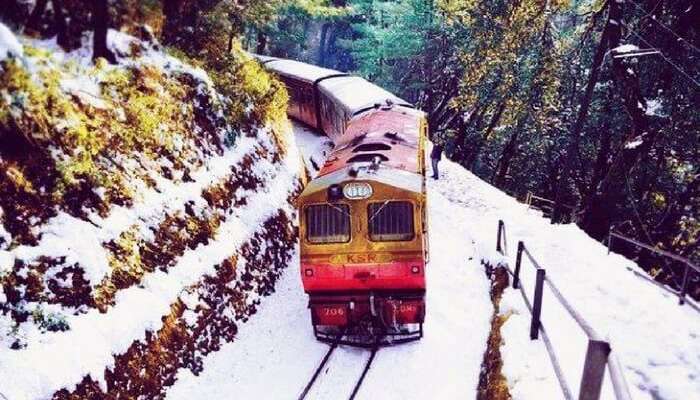 Romance thrives in the air and it's rightly justified by the number of romantic activities you can perform in and around. Shimla has enough to make you feel accomplished about your honeymoon trip!
Travel in the Kalka – Shimla Toy Train – a romantic ride cum heritage journey embracing the nature and its wilderness
Plan an ice-skating session at the ice skating rink near Scandal Point
Watch the miraculous sunrise by the Chadwick Waterfalls
Take a momentous tour of Military Museum at Annandale
Still feel like something's missing? Head to Scandal Point near The Mall for one of the best sunrise views in India. As it is said, no honeymoon is complete without a great shopping spree, and therefore I suggest you Lakkar Bazaar.
Best Things To Do For Couples In Manali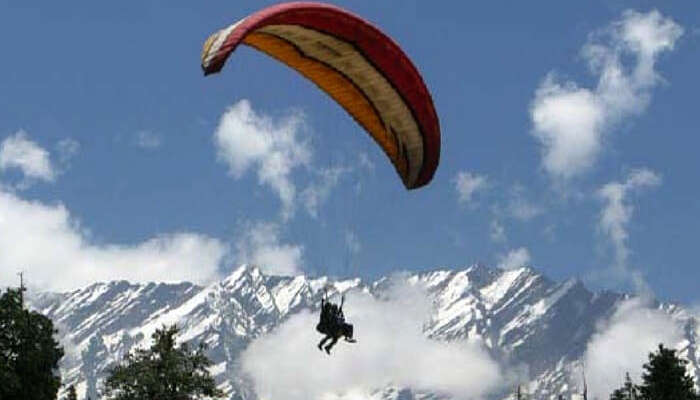 Among Shimla vs Manali for honeymoon, Manali could be the perfect place for adventure loving couples looking forward thrill and excitement on their honeymoon date. Full of daring activities in the serenity of the Himalayas, Manali has its own range of nature's delight to keep you enthralled.
Go paragliding in Solang
Choose from a range of adventure activities like skiing at Club House
Head to Kothi for a dose of adrenaline in the secluded environs
Wait, there's more, a Yak ride at Manali Wildlife Sanctuary, and a refreshing dip in the Vashisht Hot Springs could be the perfect way to sum up your rendezvous with Manali.
Places To Stay For A Honeymooners
Boasting of some exceptional nature views in the background, there are romantic hotels in Manali as well as fascinating hotels in Shimla that boast of some exciting stay options where you can always plan a romantic stay after a long day. So, light the hearth, grab a glass of wine and lose yourself to the madness of the night that you wouldn't want to end!
Best Romantic Hotels In Shimla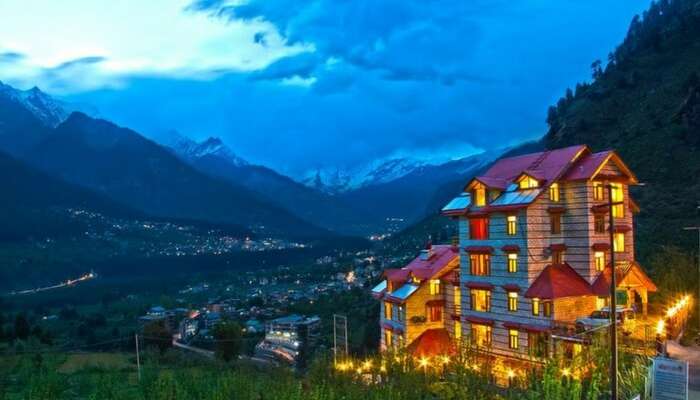 Shimla has luxe stays that make for an ideal romantic retreat for honeymooners. Hotel Green View, Woodville Palace, The Oberoi Cecil, Clarke's Hotel, and Hotel Springfields are some of the most recommended stays by happy honeymooners on TripAdvisor.
Best Romantic Hotels In Manali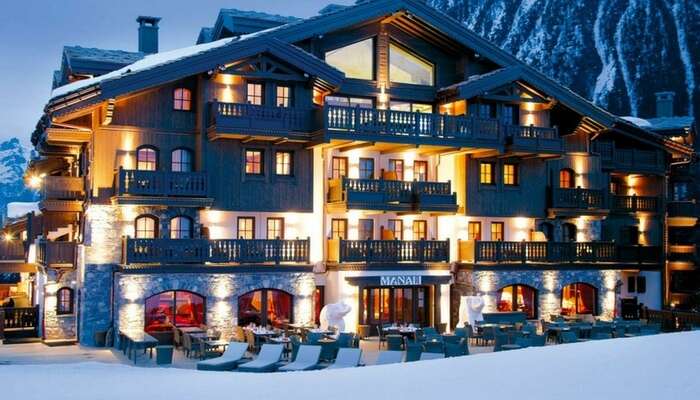 Among all the popular stays in Manali, Mohan Palace, Royal Regency, The Manali Inn, Solang Valley Resort, and Span Resort & Spa are some of the most sought after honeymoon resorts.
Top Romantic Restaurants
Romantic dining could be the perfect summation to your well-planned honeymoon. Both Shimla and Manali have romantic restaurants that serve lipsmacking delicacies with jaw-dropping views in the backdrop. Here are the top picks from some of the happy honeymooners on TripAdvisor as they upvoted these eating joints.
Top Romantic Restaurants In Shimla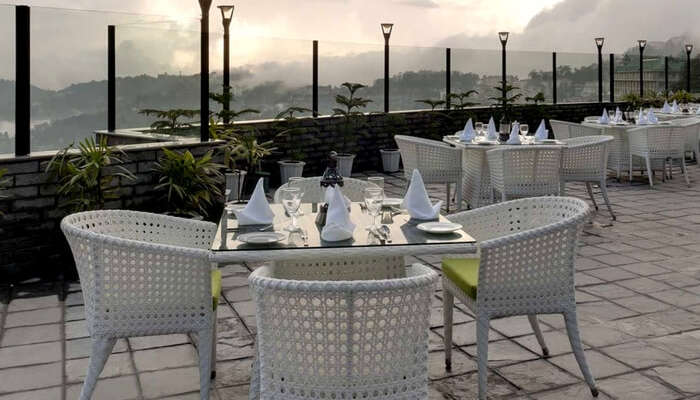 Pick from this list of romantic eateries where you get to dine and marvel at the beautiful nature at the same time. Ashiana Restaurant at The Ridge, Alfa at Scandal Point, Devicos at The Mall Road, and Sita Ram's at Lakkar Bazaar are the places where you can grab a bite with your beloved!
Top Romantic Restaurants In Manali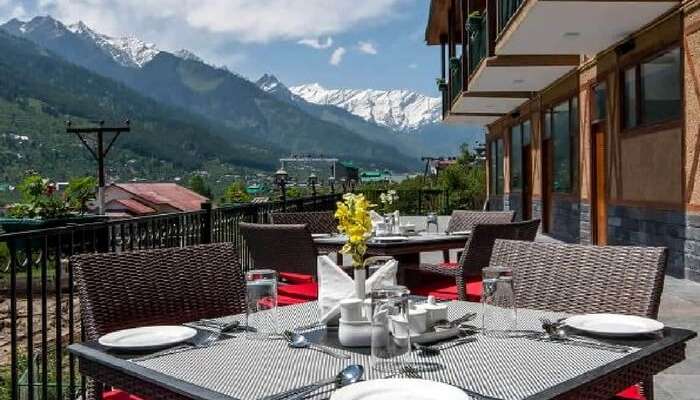 Among the prominent eateries in Manali, Johnson's Cafe at Circuit House Road, Cafe Amigos opposite Nehru Park, Chopsticks at The Mall, Il Forno at Hadimba Road, and Fat Plate Cafe at Naggar Road offer good food and romantic dining set up for honeymoon couples.
How To Reach
The routes to these charming destinations are also amazing. You would witness serenity and awe-inspirings vistas all the way.
How To Reach Shimla For Honeymoon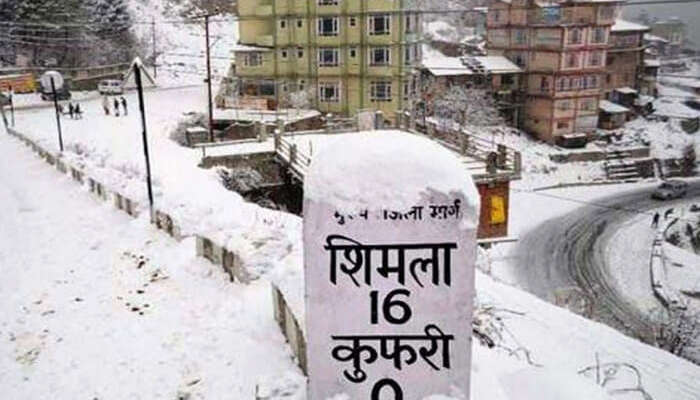 Jubbarhatti airport located 23 km from the main Shimla city is well connected with major airports in India. At 85 km Kalka is the nearest railway station to Shimla and well connected with other major cities across India. At 350 km, Shimla is an overnight journey from Delhi by road. Volvos and private taxis are the most popular mode of transport while traveling by road. However, couples should prefer the rejuvenating toy train ride from Kalka to Shimla for a vintage experience. Admire the exciting beauty that you stumble upon enroute.
How To Reach Manali For Honeymoon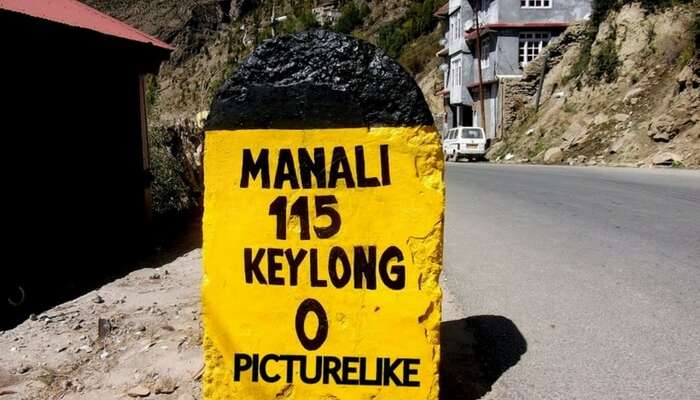 Bhuntar airport is 50 km from Manali and is the nearest airport connecting Manali with major Indian cities. Reaching Manali from Delhi by road takes 10.5 hours by road and is the mostly preferred by honeymooners.
Now a that you know enough about Shimla vs Manali honeymoon, you can make the best decision. Whether it's a honeymoon to Shimla or honeymoon to Manali, raise a toast to the essence of married life in the serenity of the Himalayas, where you can buy experiences for moments! Coz that will be your prized possession forever. Himachal calling!