Ooty Vs Manali: Which One Will You Choose For Your Next 2022 Trip?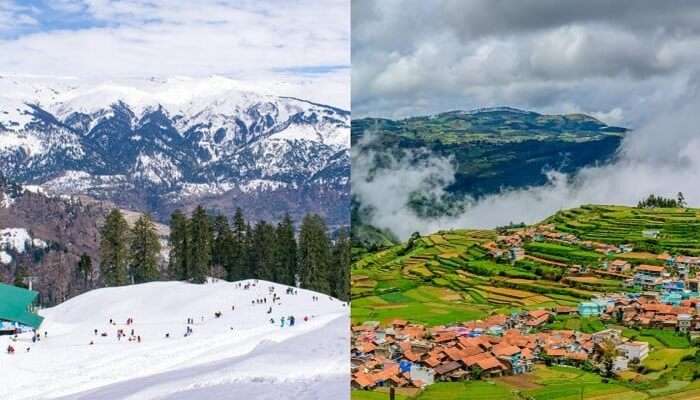 Natural Landscape
Image Source
Apart from the fact that both of these destinations are well-covered hill stations in India, they do differ a lot in the natural landscape that you will experience around. Ooty is located in South India while Manali is located in North India.
Ooty has a very terrain like a natural landscape, mainly because the place is famous for its tea plantations. Not just that, in terms of weather, the conditions are a lot more different in comparison to Manali. It doesn't experience snowfall but does have pleasant and soothing weather the entire year around.
When it comes to Manali, you are only going to experience tall trees, dense forests all around the slopes of the mountains. It doesn't have any such tea plantations around but does experience snowfall in the higher peaks during the extreme winter conditions. The weather does flip around and gets very cold during the winter but also remains pleasant and soothing the rest of the year.
Ooty Vs Manali – Highlights
Image Source
In terms of highlights, we would suggest that you witness the tea plantations around in Ooty which makes up for the majority of the green landscape around. Aside from that, the place is also known for its trekking tours which you can look into.
When it comes to Manali, the majority of the tourists visit this spot to simply explore the beauty of snowfall which is not readily experienced around the rest of the country. Manali is also quite an amazing spot for several adventure sports if that is something you find interest in.
Weather And Best Time To Visit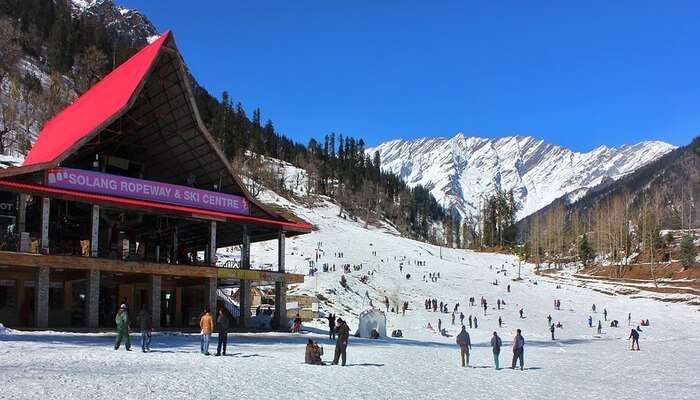 Image Source
The weather in Ooty is cold and pleasant almost throughout the year which is why tourists like to flock in throughout the year. That aside, if you have been looking for the best time to visit Ooty, the months between October to June is considered the best. The weather during that time of the year can range from pleasant to cold. Anything after does experience rainfall which is not optimal if you want to explore the place around.
On the other hand, for Manali, the winter months are considered the peak time of the year to visit, mainly because the place experiences snowfall which is what people flock into the experience. Even for Manali, the months between October to June are considered optimal for visiting and sightseeing.
Ideal Duration
Both of these destinations are hill stations and have a wide range of sightseeing and exploring spots around. If you want a full depth of experience here, it is best suggested to ensure that you at least stay for 3-5 days and longer, if you have the time and budget. If possible, plan for a longer trip if you are Manali because there are more spots to cover in comparison to Ooty.
Average Budget
Contrary to popular belief, both Ooty and Manali are considered budget-friendly holidays, even if you have not been saving up enough. All that aside, we would suggest that you do have a concrete budget sorted out, keeping the estimations in check because that can further help sort things out for you.
The Average Budget For Ooty
Transportation (railways) – INR 1000 to 2000 (to and fro) per person
Accommodation – INR 1500 to 2000 per night
Accessory expenses – INR 1000 to 2000 per day
So, in total, you can expect to spend around INR 5000-6000 in a day when you want a lavish experience traveling around Ooty which is a fair price point if you come to see.
The Average Budget For Manali
Transportation (Volvo bus) – INR 2000-3000 (to and fro) per person
Accommodation – INR 2000-3000 per night
Accessory expenses – INR 2000-3000 per day
So, in total, you can expect to spend around INR 7000 to 9000 in a day in Manali. The reason why the expense is more in comparison is because of the transportation around the city.
Best Places To Visit On The Trip
When it comes to the comparing Ooty vs Manali, it is a given that you do need to have an idea of the best spots to explore around.
Top Places To Visit In Ooty
Image Source
Nilgiri Mountain Railway: If you thought that toy train rides are only available in Darjeeling, you are mistaken because the same is also prevalent in the Nilgiri Mountain Railway in Ooty. It is a World Heritage Site and one of the most popular sites to visit. It has got the steepest tracks in the entirety of Asia but the experience is just as rewarding. It takes you around Nilgiri so you can experience the beauty of the place firsthand.
Ooty Lake: If you aren't scared of water, Ooty Lake is also a popular tourist site that you can visit. It is an artificial lake and offers scenic views all around. If you are lucky to visit during the time of the summer festival, you can witness boat races and other exciting events there as well. A boathouse is also present that you can spend some time in.
Needle View Hillpoint: It is without a doubt that Ooty is one of the most breathtaking spots in India and you can experience that first hand from the Needle View Hillpoint. It overlooks the entire place and is just a breathtaking experience. The only thing to ensure is that you check the weather and visit because you want clear weather conditions for the view. You can even climb up the rocks for the view.
Tiger Hill: Another one of the must-visit spots in Ooty is the Tiger Hill which offers a beautiful view of the entire city. The top of the hill has a cave and water body which further stacks on to the overall experience even further. It is located in a secluded spot, away from the hustle and bustle of the city as well.
Best Places To Visit In Manali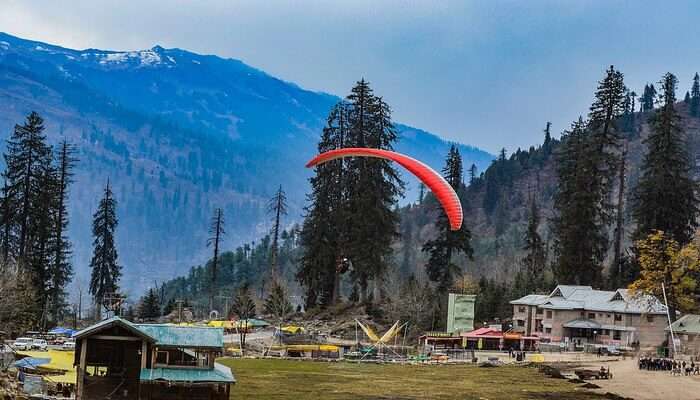 Image Source
Solang Valley: If you are in Manali and want to visit the most commonly visited tourist spot, Solang Valley is one of them. It is nestled between Solang Village and Beas Kund and offers a spectacular view of the surroundings. It is located around 13 km away from the main city of Manali and is predominantly known for its views and the snowfall.
Rohtang Pass: Yet another must-visit spot in Manali that you absolutely can't miss out on is the Rohtang Pass. This is one of the highest mountain passes in India, located at 13,000 ft. It also translates to a "pile of corpses" which can be an intimidating name but is nevertheless an amazing experience in itself. The panoramic view of the snow-capped mountains is worth all the struggles you experience on the way.
Manu Temple: While there are several routine tourist spots across Manali, the Manu Temple is a very underrated spot that is worth visiting. This historical Hindu temple is dedicated to Sage Manu and does have several folklores associated with it. Pilgrims do flock in masses to this spot because of the religious significance that it holds.
Mall Road: If you want to silence the shopaholic within you, Mall road is quite an amazing place to be in. This market hosts several smaller street style shops around that you can further visit and explore. Try out the local street shops and get things for a bargain. Not just that, the street food around that place is also quite amazing.
Shopping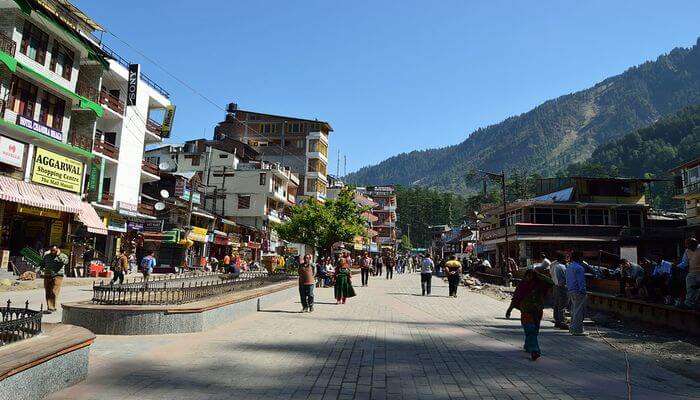 Image Source
If you are a shopping buff and want to explore things around, Ooty might not be the place to visit. Manali does sport several local street-side shops and even Mall Road which is a famous destination for getting local handmade things. Ooty, on the other hand, is famous for its tea plantations and that is something that you can most definitely purchase if you feel like it.
Getting Around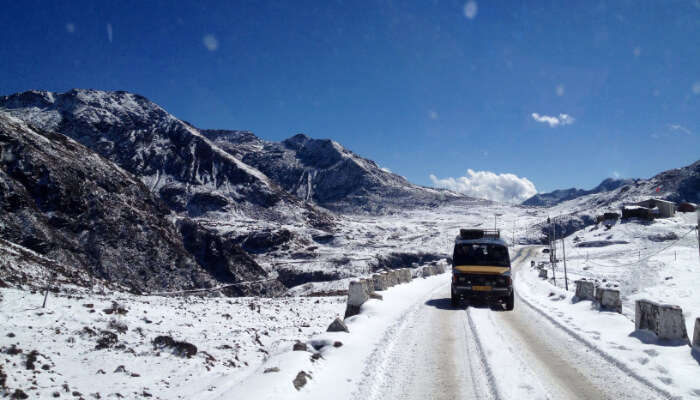 While comparing Ooty vs Manali, both have public transportation available but it can get pretty hectic traveling in them. If you want your vacation to be a seamless one, we would suggest that you hire a rental car and let the driver cum guide take you around. They can also take you places that are often overlooked and missed out by the tourists.