Manali Vs Dalhousie: Choose Your Winter Or Summer Escape Wisely!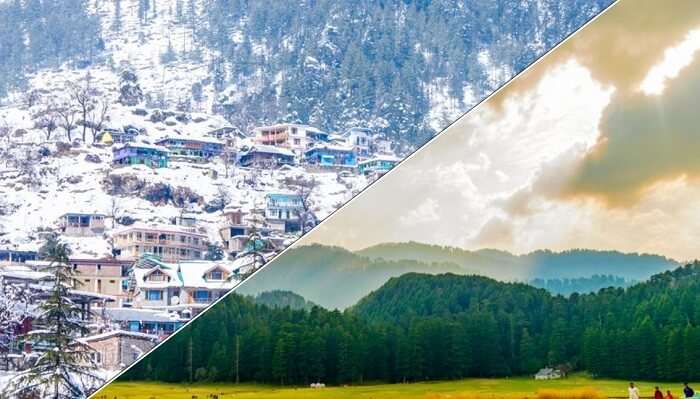 Out of all the places, Manali and Dalhousie are very well known and reputed holiday destinations in India. It is widely visited by tourists from different parts of India and abroad owing to their beautiful and scenic views, let alone their remarkable atmosphere, climate conditions, and very welcoming hospitality. Further, in this article, we shall learn more about these said places in detail and find out which one is your taste of preference – Manali vs Dalhousie!
Natural Landscape
Manali is a magnificent high-altitude Himalayan resort town which is very well located in Himachal Pradesh, India. It is often praised for its panoramic and scenic views which are truly a joy for your eyes to behold. Solang Valley and Parvati Valley are quite popular for skiing and trekking. It is situated about 40 km from the northern end of Kullu and set at an altitude of about 2,050 m. The landscapes here are true to be praised owing to its calmly flowing rivers with clear water which eventually meanders through the town.
On the other hand, Dalhousie is a small yet very beautiful town and the place has a lot to offer to the visitors with scenic mountain views and some great panoramic views of the surroundings. The ever-beautiful blend of the blissful nature and the aura of mythology makes this place a paradise in disguise. It is often praised for its undoubtedly breath-taking landscapes.
Best Time To Visit And Ideal Duration
The best time to visit Manali is said to be during winters basically between October and February and the visitors can find some pleasure in the freezing cold where at times the temperature drops down to zero degrees Celsius. Dalhousie can be well visited throughout the year but the recommended period would be during summers between March and June to experience what the best this pace has to offer during then.
A vacation for 2 to 4 days should be very well sufficient to explore the beautiful Manali while a 2-day trip shall enable you to visit several attractions and points of interests in Dalhousie.
Average Budget
One of the most important factors that can make or break your vacation is surely the budget. The first thing after deciding the destination comes the damage to the pockets that comes with it. But trust us, it is all worth it!
Average accommodations:
Manali- INR 2,000 approx. (For two people)
Dalhousie- INR 2,500 approx. (For two people)
Meals:
Manali – INR 100-250 approx. (Per person per meal)
Dalhousie- INR 700 approx. (Three-course meal for two people)
Transfers:
Manali – INR 500 approx.
Dalhousie- INR 600
Sightseeing:
Manali – INR 1,500-3,000 approx. (Hiring a taxi or a full trip)
Dalhousie- INR 1,500-3,000 approx. (Hiring a taxi or a full trip)
Miscellaneous:
Manali – INR 1000 approx.
Dalhousie- INR 1000 approx.
Average budget per day:
Manali – INR 6,000 approx.
Dalhousie- INR 6,300 approx.
Note: All of the above mentioned prices are just an average. Guests can choose their best options according to their own tastes and preferences, and of course the budgets.
Places To Visit On Vacation
There are several beautiful places to visit and explore in Manali and Dalhousie and the below-mentioned places are some of the best which they have to offer.
Places To Visit In Manali
From cafes to trekking trails, Manali is home to some impeccable attractions. Find out the best places that one should visit on their vacation to Manali!
Hampta Pass Trek: It is certainly a haven for adventure enthusiasts as it is simply perfect for trekking. This beautiful spot is well situated amidst dense pine forests and pristine glacial valleys in Manali and is one of the must-visit destinations without a doubt.
Van Vihar: This magnificent municipal garden is a very known point of interest set on Mall Road, Manali. If you would wish to go boating then here it is right in the spacious pond which is known to be very well surrounded by dense and tall deodar trees.
Bara Bhangal Trek: It is profoundly called the Shepherds trail trek and is very well known to be a great attraction that stretches from the lush green Kullu valley up to the stark landscapes of magnificent Bara Bhangal Range.
Rohtang Pass: It is a stretch that connects Manali and Himachal's landscapes let alone Lahaul and Spiti. This is a very beautiful snow desert located in Manali and it is widely visited by the tourists throughout the year.
Hadimba Temple: This magnificent temple is set quite away from the city's hustling and bustling noises and is well surrounded by the fascinating deodar trees. It was built to impress and in respect to Hidimba, the wife of Bhima who was one of the Pandava princes from the great Indian epic Mahabharata. Try and not miss the 3-days Hidimba Devi Festival where one can witness a magical colorful folk-dance performance.
Places To Visit In Dalhousie
Satdhara Falls: Dalhousie is home to some marvelous elements of mother nature. Check out this list of all the best options that one can choose from!
Satdhara Falls: It is graciously situated in Dalhousie at an altitude of 2,036 m above sea level. It inherited its name from the seven beautiful springs which are well known to acquire several therapeutic values and this place is widely visited by the tourists.
Dainkund Peak: It is rich in its scenic and panoramic views of the surroundings and decently beautiful pine laid landscapes. Being the highest peak in the entire Dalhousie, it is certainly visited by tourists throughout the year.
Subhash Baoli: This place is named after the great freedom fighter Subhas Chandra Bose and the locals believe that the perennial spring has some significant medical properties which are said to have cured the said freedom fighter's illness once. This is a widely visited point of attraction in the region.
Kalatop Khajjiar Sanctuary: It is known to be home to flora and fauna and to leopard, bear, deer, jackal and Himalayan Black Marten. Countless species of birds can be spotted here which is for sure a sight to behold.
Khajjiar: It is a very small yet absolutely mesmerising town which is well situated near Dalhousie. It is often called the 'Mini Switzerland' and the credit goes to its scenic and panoramic views and certainly a quiet and calm atmosphere added with a very beautiful and remarkable ambience.
Shopping
Shopping can be of utmost fun and is often considered to be a very integral part of a holiday. Manali and Dalhousie are known to have some decently beautiful and quite happening shopping spots which shall truly please every shopaholic.
Shopping In Manali
Manu Market: It is located in Siyal, Manali and is often praised for being an amazing shopping spot and is also known to be one of the busiest shopping places in the entire region. One can always buy books, footwear, clothes, home appliances and artificial jewellery. The market is open from 10 am until 6 pm.
Old Manali Market: There are often hundreds of buyers flooding down here in pursuit of great shopping experience. Visitors can buy a variety of stuff such as woollen clothes and other funky accessories and you can also bargain while buying your desired goods or products. The market operates between 10 am to 7 pm.
Shopping In Dalhousie
The Tibetan Market: This place has earned its name and fame for being one of the finest shopping spots in the region. It is known to sell a variety of goods such as carpets and purses let alone some decently made bags and dolls.
Gandhi Chowk: This place is nothing but a haven for shopaholics and there are plenty of handicrafts sold here which are of high value and of course it's reasonable when it comes to pricing.
Getting Around
When you are in Manali, it is recommended to hire a taxi which will be of utmost ease and convenience to you and you will also be able to explore the nearest attractions and points of interests without any hassle whatsoever.
On the other hand, Dalhousie is a small town and can be well explored on foot while admiring the scenic mountain views. There are several local private agencies who allow the visitors to hire a cab or taxi and to make a note of, the rates for these cabs won't be negotiated.
The decision between Manali vs Dalhousie can turn out to be a difficult one, especially for those who seek to embrace nature's marvels on their vacation. Both of these places are equally beautiful and have plenty to offer. Now, it's completely one's decision if they wish to embrace the best of summer or the winter. Whatever your decision be, a trip to Dalhousie or trip to Manali will always be unmatchable!