Manali In Summer 2022: How To Make Your Mountain Getaway Way More Exciting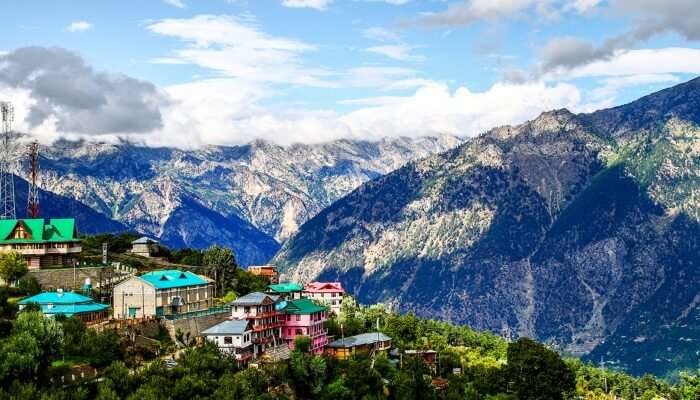 Manali In Summer Season
Summer in Manali begins in the month of April and continues until June. You can still find a few patches of snow at higher altitudes. The whole valley is blooming with flowers of variegated colors. The temperature fluctuates from 10°C to 25°C and the weather stays delightful during the day and cold during the night. Since summer is the peak season of tourism in the region, you will find huge crowd flocking to the hills for a vacation.
Places To Visit In Manali In Summer
Your itinerary should not miss out, these wonderful places to visit in Manali in summer, which we have listed down to promise you a hassle-free trip. So, let's quickly go through the guide!
1. Solang Valley
Situated around 14Km from Manali, Solang Valley is known as "Snow Point" which is positioned between Beas Kund and Solang Village. Solang Valley with an enthralling view of snow-capped peaks is the right place in Manali in Summer to bring out the spirit of adventure in you.
Solang Valley is indeed a paradise for nature lovers with refreshing views of the mountains, that leaves you stunned. Solang Valley is open all year, but there are specific times for activities. Like, between 9 am and 5 pm, you can try out different activities and skiing, which can be done between 10 am and 2 pm.
2. Hadimba Temple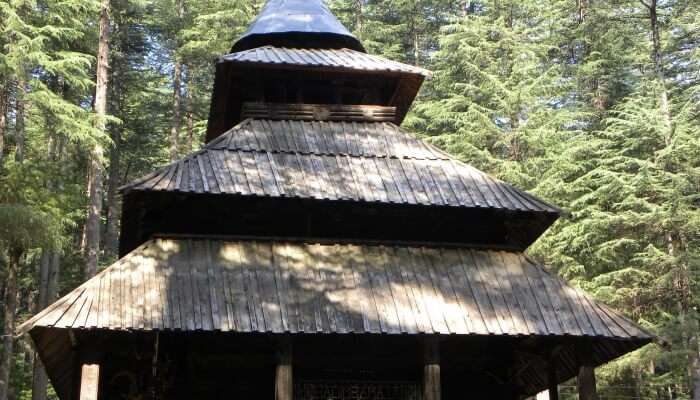 Wrapped by pine trees amidst the Dhungri Forest, Hadimba Temple is among the best places to visit in Manali in summer. This pagoda-shaped Temple situated on the hilltop is devoted to Hadimba- the wife of Pandu son Bhima. Built in 1553 by Maharaja bahadur Singh, Hadimba Temple is constructed using wood and brass. It is not only famous for its extraordinary architecture, but is also considered as an iconic symbol for its religious values.
If you are in Manali, don't miss to pay a visit to this religious tourist attraction. Open throughout the year from 8 am to 6 pm, this temple is ideal to take a break and bask in the glory of God.
3. Rohtang Pass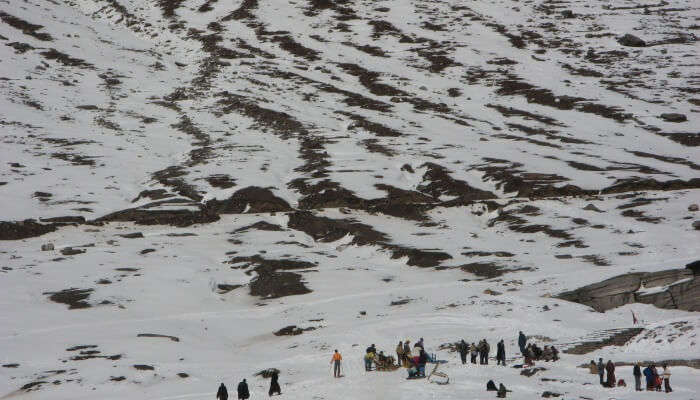 No doubt, Rohtang Pass should and must be in your bucket list, if you are planning to visit Manali in summer. Situated at a pinnacle of 3979 meters, Rohtang Pass is a few hours- drive from Manali. It's simply wonderful to drive through the pass and capture those picturesque views of glaciers, peaks and Chandra river streaming down the Lahaul valley. Adventure enthusiast and nature lover can have a gala time enjoying trekking, skiing and playing with snow.
Besides these, pony-riding, driving snow-scooters, snow-sled, and other sports will definitely give you a thrilling experience. It is considered that summer is the best time to visit Rohtang Pass and many people across the country visit this place in summer.
4. Manali Sanctuary
Sprawled over an area of 3180 hectares, Manali Sanctuary is among the top places to visit Manali in Summer. Situated approximately 2km from Manali, this sanctuary is home to a wide range of animal and plant species. Some of them include, Deodar, Horse Chestnut, Walnut, Robinia, Maple Trees and Musk deer, brown bears, and snow leopards. It's a pleasure to the eyes to witness the scenic beauty of this sanctuary, enveloped with dense forests, pristine glaciers and colorful birds and animals. Visitors can take up hiking and trekking activities here, to keep up the Thrillist in them. The best part of heading this sanctuary during summer is that it allows camping only in summer.
5. Tibetan Monasteries
If you are an art enthusiast and love to explore different art and craft items, then Tibetan Monasteries are the places to include in your Manali in Summer vacation. Himalayan Nyingmapa Gompa and Gadhan Thekchhokling Gompa are among the most popular Tibetan Monasteries, which deserves your visit. Every Tibetan Monastery here is famous for displaying their unique and splendid work of Tibetan art and craft items.
The visitors can also enjoy meditating and shopping these amazing pieces of art and crafts. Unlike many other monasteries, Tibetan Monasteries are open throughout the year. Nevertheless, the main entry timing is from 7 am to 7 pm. So, what are you waiting for?
Things To Do In Manali In Summer
Manali offers a variety of adventure activities to indulge in that makes it a favorite destination among the tourists. Check out all the exciting things you can do in Manali.
1. Paragliding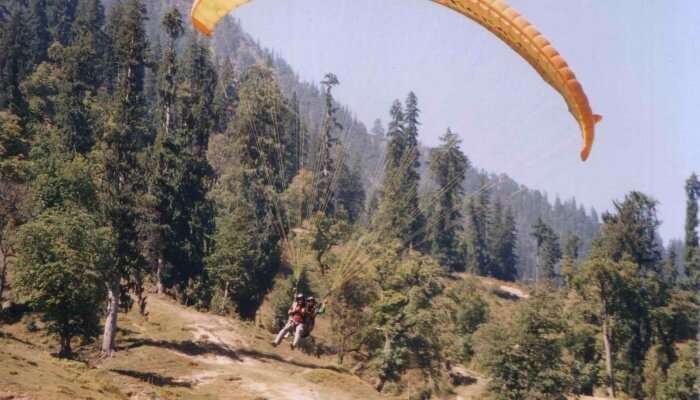 Have you ever imagined yourself flying freely down the hill without wings, with a majestic view of the lush green landscapes and mountains? Isn't it amazing? The overwhelming feeling it gives you is just out of the world. Paragliding is one of the main reasons why people visit Manali in Summer. There are several famous spots in Manali, where the Paragliding activities are carried out by the experts, Solang Valley is the most popular.
Paragliding is something which inspires the wanderlust in you, it always gives you a fun-filled and delightful experience. Summer is considered the best season to enjoy Paragliding adventure sport in Manali. So, if you are heading to Manali in summer, then don't forget to add Paragliding to your adventure list.
2. River Rafting
Get ready to experience the greatest adrenaline rush in your life! During summer, one of the most important adventurous sports you can enjoy in Manali is River Rafting. Beas, Chenab, Sutlej and Ravi are the rivers that offer the River Rafting opportunities. To ensure you a safe ride, a team of trained professionals will guide you and provide essential equipment like life jackets, wetsuit, paddle and helmet.
Along with enjoying the rafting, you get to experience the stunning vistas of landscapes. So, get everything ready to witness the unforgettable memories and bring out the adventurer in you. If you have added all the things in your things-to-do list of Manali in Summer trip, it's time to add River Rafting too.
3. Trekking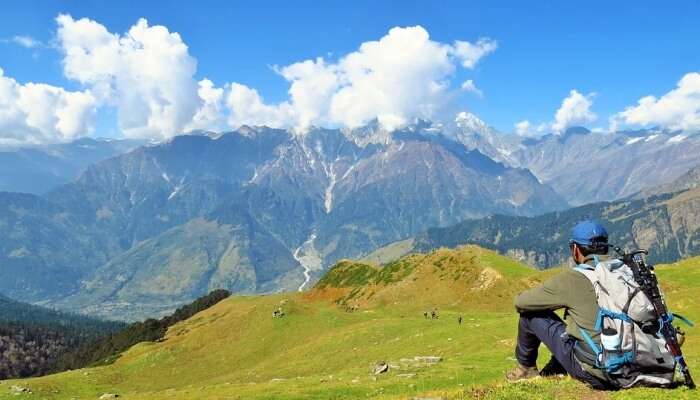 Another must-do activity, which you can add in your Manali in Summer tour, is trekking. Trekking gives a perfect vacay feel, as you wander around the lush green alpine trees and snow-capped peaks. While you keep climbing above and above, the true beauty of the Himalayan Mountains can be seen. Beas Kund Trek, Bhrigu Lake Trek, and Chandratal Lake are among the popular trek activities in Manali. These exciting trekking activities in Manali will leave you speechless as you capture the picturesque scenes of the surrounding area.
The activity is said to be a soft-adventure sport and suitable for everyone with minimal physical activity. Things which you can carry during your trekking in Manali, include Hiking boots, a water bottle, a backpack, torchlight, trousers, sunscreen, a smartphone and medical kit, etc.
4. Zorbing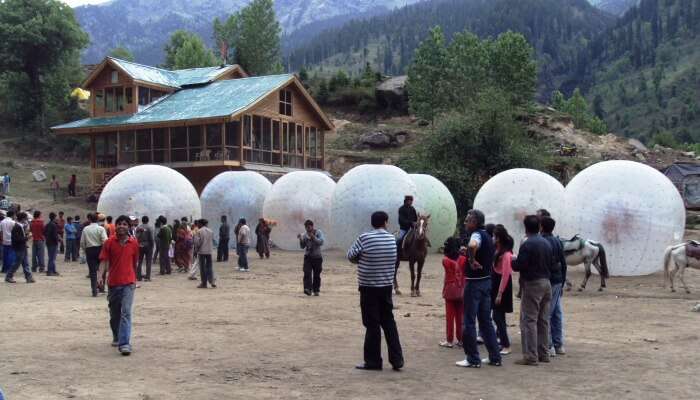 Zorbing is one of the famous hill sports in Manali, and almost all visitors participate in this activity. The best time to enjoy this fun-filled activity is considered as summer and winter. So, if you are in Manali in Summer, then this activity must be included in your things-to-do list. A rider is allowed to enter an orb, which is basically a transparent plastic ball. Then, the orb is made to roll down the hill on a gentle slope. Isn't it something different? Yes, Zorbing is becoming famous among many visitors in Manali, as it gives you an exceptional experience.
Mostly, this recreational activity is carried out in the Solang Valley, situated at a stretch of 14Km from Manali. To ensure your safety during this activity, professional instructors will guide you in every situation. You are never too late to experience new things, so don't miss out on indulging in this amazing activity.
5. Riverside Camping
Last but not the least thing, which will bring out the thriller in you is Riverside Camping. Manali is heaven for adventurous people and nature lovers and offers a wide range of camping beside different rivers. Riverside Camping will never leave to surprise you at every step. Imagine spending the night beside a roaring river and enjoying the campfire with your friends and loved ones. It's absolutely amazing to have a heartfelt conversation with your loved ones under the stars. It's simply wonderful to wake up in the morning listening to birds chirping and being soaked in the spellbinding view of the lush valleys beside a river.
Things to carry when you are going for a riverside camping include a sleeping bag, first aid kit, pocket knife, flashlight, water bottle and fire starter. So, don't miss out on including Riverside Camping in your list of Manali in Summer tour.