Gangtok Vs Manali – Which Will Be Your Pick To Enjoy A Surreal Vacay!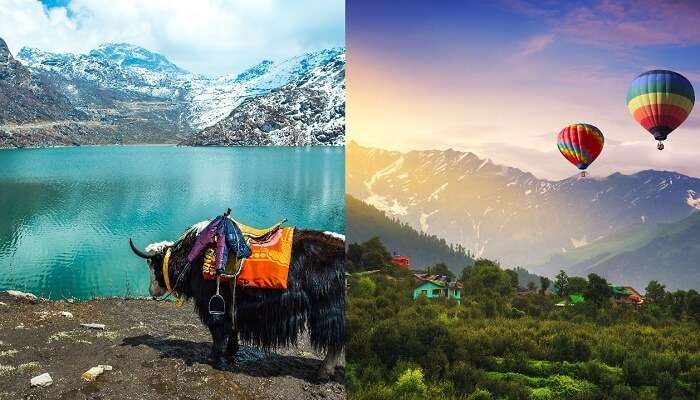 Places To Visit – Gangtok Vs Manali
Before further explanation, we are going to sort you out with five popular places in Manali and Gangtok that needs to be in your itinerary, in case you plan on visiting either one of these.
Places To Visit In Manali
Here is a list of some of the best places to visit in Manali which one must explore and enjoy a great time amidst the nature's finest beauty.
Hadimba Temple: When it comes to Manali, it goes without saying that visiting the Hadimba temple there is an absolute must. This temple is dedicated to Lord Bhima from the Pandavas in Mahabharat. The most breathtaking factor about this temple is its location, which is surrounded by thick pine forest in the middle of the Dhungri forest. The architecture of the place is also worth witnessing.
Vashist Hot Water Springs: As we mentioned before, hot water springs in Manali are quite popular. The Vashist hot water spring is considered the most popular variant that you can look into while in Manali. It is located around 3 km from the main city and is a very popular tourist destination. The place also houses a temple for Sage Vashist and hence the name. The water spring there is also believed to harbour medicinal properties, which again is a popular factor.
Nehru Kund: Unlike the prior one, this is a natural spring of cold water, situated around the Leh National Highway. The spring is believed to arise from the Bhrigu river. It is situated at a height of 4300 ft which adds a kick to the adrenaline rush even further. The place is named after the first prime minister of India and is encompassed by the beautiful natural beauty all around.
Jogini Falls: If there's a hill station, there is going to be a waterfall. Manali is popular for the Jogini waterfalls which are situated just beyond the Vashist Hot Springs. The stunning rush of the waterfall along with the epic mountains and the lush greenery around make this a visit worth the while. There is also a safe trek route that you can follow through to witness the waterfall.
Solang Valley: Lastly, while in Manali, make sure to visit and explore Solang Valley which is nestled between Beas Kund and the Soland Village. This is where you can witness the popular skiing festival and the thick blanket of snow that you can have fun in. This is also quite a popular spot for adventure lovers who want to explore new things around.
Places To Visit In Gangtok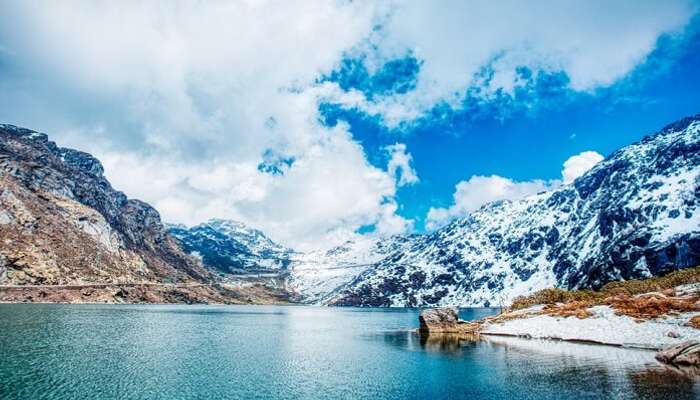 Some of the best spots in Gangtok that are worth visiting include:
Tsomgo Lake: This glacial lake is located at a height of 12,130 feet and is situated around 40 km away from Gangtok but makes for one of the most popular tourist sites. The view of the icy blue water and the view of the majestic Himalayas in the backdrop is something that you do get to experience just once in a while. There is also a small Shiva temple at the shores which you can visit. Many tourists also like to set up a small picnic on the shores.
Nathu La Pass: Another spot to explore from Gangtok is the Nathu la pass. You can either drive or hike your way up to the top, which is quite a tough affair. The view and the spots from the top are breathtaking as well. There is a market set up around from where you can purchase several items including raw silk, butter, sheepskin, and several other things. The Gnathang Monastery is also situated close by which you can visit and explore.
Tashi Viewpoint: Getting a glimpse into the entire city of Gangtok is going to leave you speechless and that experience can only be acquired from the Tashi viewpoint. It is a popular site to witness the amazing sunrise and sunset as well. Make sure that you plan your trip on a clear day as the clouds can damper the experience otherwise.
Seven Sister Waterfalls: If you are in Gangtok, it is an absolute must that you witness the Seven Sister Waterfalls. The site witnesses the rush down of seven different waterfalls that originate from different sources and come meet here. The combined force of these seven waterfalls into one results in a thunderous and forceful waterfall that will peak through your imaginations.
Phodong Monastery: Gangtok is known for its Tibetan culture and Buddhism. The Phodong Monastery is one of the most popular sites to visit in Gangtok if you are seeking some solitude from the constant hustle of life. The ancient murals on the walls are breathtaking and very intricately done. There are also several artifacts and sculptures that you can check out.
Shopping
Shopping experiences in both Manali and Gangtok are heavily influenced by the Tibetan culture. If you want to gain some experience exploring the best shops, make sure to check out the local street shops that sell handmade crafts and clothing for you to try out. There are several types of winter clothing which are quite popular there that you can check out for your shopping needs.
Natural Landscape – Gangtok Vs Manali
When it comes to the natural landscape of Gangtok and Manali, there's nothing much to differentiate among the two as both of them are two of the most visited hill stations in India. With so many beautiful mountain peaks and lush greenery all around, their landscape screams the authenticity of natural beauty at its finest.
Manali does have natural hot water springs and high rise mountains that you can visit and spend some time in. The weather in Manali is also quite pleasant throughout the year, further making this an even better option for visiting the entire year around.
Gangtok, on the other hand, overlooks the majestic Kanchenjunga and is a very culture and tradition-based state that will leave you awestruck with its beautiful surroundings and tranquility.
Weather And Best Time To Visit
The weather in both Manali and Gangtok is very pleasant the entire year around, except maybe for the extreme winter months when it's snowing and way too cold.
If you don't want to freeze yourself to death, the time between October to June is often considered the peak season for visiting Manali when the weather is pleasant. But, if you wish to experience snowfall, December to February is the peak season for that. It is also best suggested to avoid the months between July to August as the rainy season is just not fitting enough.
For Gangtok, the weather is pretty pleasant like Manali, the summers are quite sunny and breezy while the winters experience negative temperature as well. If you wish to visit and explore Gangtok during the peak season, we would suggest visiting during the middle of October to December. You can get clear views of Kanchenjunga and the other peaks during the months, making your trip worth the while.
Ideal Duration – Gangtok Vs Manali
If wondering about the ideal duration to explore Manali and Gangtok, we would suggest a minimum of 4-6 days for each. Since there are so many beautiful sites to explore and witness, you just can't expect to finish them in a matter of 2-3 days.
For those who want a laid back experience while on a vacation, the best is if you make the bookings for a week or 10 days. You can even explore a few of the day trips from Manali or Gangtok in between, adding further memories to the trip.
Currency – Gangtok Vs Manali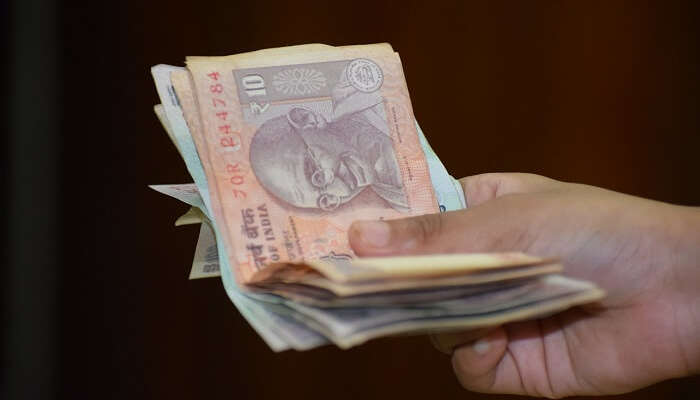 Since both of Manali and Gangtok are located in India, the currency that applies to both the cities in the Indian Rupee.
Average Budget – Gangtok Vs Manali
It is a myth that people think of visiting Manali or Gangtok with family or friends will leave them bankrupt. That is not the case at all. Both of these spots, even when visited during the peak season is quite affordable, if you do plan things ahead of time.
To be fair, the budget depends on when you are making the bookings and for how long you are staying in both the cities.
Average Budget For Manali
When it comes to breaking down the budget for Manali, some of the important pointers include:
Volvo bus (to and fro) from any metro city – INR 2000-3000 both ways
Hotel accommodation (for 2 people) – INR 3000 to 4000 per night
Food and accessories – INR 2000-3000 per day
So, on average, you might need around INR 10,000 per day if you are visiting Manali. Know that we have taken every expenditure with a maximum ballpark figure and you could have everything done at half the price as well if you do the bookings prior.
Average Budget For Gangtok
When it comes to breaking down the budget for Gangtok, some of the important pointers include:
Train fare (per person) – INR 1000-2000
Hotel accommodation: INR 2000-3000 per night
Food and accessories – INR 1000-2000 per day
So, on average, you might need around INR 5,000 to 7,000 per day for a comfortable trip to Gangtok. Know for a fact that even these figures are stretched out and can prove out to be a lot less, depending on the time of the bookings.
Visa
If you are traveling to any of these cities from other states in India, it doesn't require you to have a VISA. But, if you are travelling from somewhere outside India, VISA applications are a must, based on how the rules and regulations call for.
Getting Around
Public transports can be tedious if you want to explore Manali and Gangtok. If you are visiting for an expedition, we would suggest that you do explore the place by hiring a private rental car that can take you around.