6 Spots For Shopping In Manali Where All Shopping Lovers Can Splurge In 2022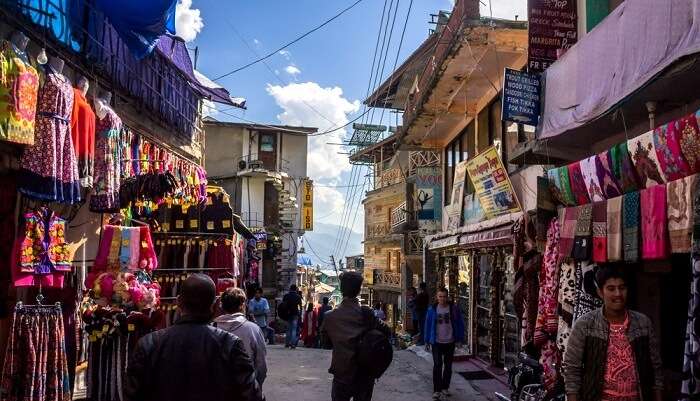 6 Best Places For Shopping In Manali
Here are 6 spots for top-quality shopping in Manali for travelers all around the country. Keep scrolling down and read along to know more about them.
1. Old Manali Market
2. Himachal Emporium
3. Tibetan Market
4. Manu Market
5. The Mall Road
6. Bhuttico
1. Old Manali Market
You will like old Manali Village not only for its countryside charisma but also for its picturesque and widely held market. One of the most popular markets, Old Manali Market has something for everyone. You can purchase a lot of things like accessories, t-shirts, trendy woolen clothes, and much more. Discovering the market and negotiating for the right place is an additional treat you are going to love. Events and activities all over the arcade, the thrill in the streets will make you fall in love with this place. If you are going to Manali then you should not miss this shopping place in Manali for sure.
Location: Manu Temple Road, Old Manali, Manali, Himachal Pradesh 175131
Timings: 10 AM-7 PM
Specialty: Funky clothes and accessories
2. Himachal Emporium
If you adore art and are looking for handicrafts products then the Himachal emporium is the perfect place for you. Here at this spot for shopping in Manali, you will catch tantalizing items which are very gorgeous. This place has a worthy range of various products out of which some of the hot-selling products are shawls and pashminas, embellished items for the home, handmade range of slippers and shoes, toys for kids, and much more. The best part about this market is that the price is fixed here which recommends that you will find a sensible deal at the shop. The shop is also acknowledged for its service where staff assists the guests in a very welcoming way. You must go for some wonderful items from this place for sure.
Location: Mall Road, Manali, Himachal Pradesh 175131
Timings: 10 AM-7 PM
Specialty: Handicrafts
3. Tibetan Market
When you enter this beautiful market, you can feel the tranquil and peaceful Tibetan vibes from place. Spend an excellent time with your friends or family. This delightful market for shoppers is one of the top shopping spots in Manali. The Tibetan market is renowned for the diverse Tibetan product range and it is the best option for those who are looking to purchase Tibetan stuff.
When you enter the streets, you will find a variety of products on both sides of the street which will help you to attach to the Tibetan culture and tradition. Apart from Tibetan products, you can explore in the market where you will find products like Buddhist painting cloth , jewelry, decorative items, and apparel. You must know the art of bargain with the vendors before you settle down for a final price.
Location: Siyal, Manali, Himachal Pradesh 175131
Timings: 10 AM-7 PM
Specialty: Tibetan souvenirs and other different products
4. Manu Market
This is a tiny Market yet busy Manu Market is set at the Mall in Manali. As you stroll through the antiquated market, the bright colors of striking goods are sure to pull your attention. You can shop here for a glut of items like several books and outfits. You can shop multiple products from this market starting from for footwear, crockery, utensils, handloom products, artificial jewelry, and whatnot. Apart from shops, you must try local restaurants that oblige you with a selection of delicious delights and offer a soothing setting. It is not shocking to see a lot of photographers wandering around with their cameras to seizure the exquisiteness that is created by the gorgeous artifacts in shops surrounded by dense forests.
Location: Siyal, Manali, Himachal Pradesh 175131
Timings: 10 AM-6 PM
Specialty: Books, artificial jewelry, footwear
5. The Mall Road
Manali, a spectacular hill station and attracts tourists from all around the country. It is not only popular for its mesmerizing beauty but also for the popular shopping spot– Mall Road. This place is famous for street shopping and hums with events during the day. As you wander through the streets, you can take a look at the precisely creased shops that are laden with captivating items like shawls, woolen items, artificial jewelry, woody furniture, antiques, books, Tibetan items, and whatnot. If you are looking for Kashmiri Salwar suits, paper silk printed sarees other things including jams or pickles primed in ethnic style are reasonably popular among the tourists. After your shopping splurge, you can revitalize your body by eating scrumptious treats at the restaurants on Mall Road.
Location: Mall Road, Manali, Himachal Pradesh 175131
Timings: 10 AM- 7 PM
Specialty: Winter Apparels
6. Bhuttico
Bhuttico was started in 1944 by a group of women. This is another place for shopping in Manali which has much to deliver. They have a vast range of Trendy jackets, scarves, accessories, and angora and pashmina shawls and other accessories for winter can be bought from this shop. This Shopping place in Manali was awarded by the National Award from the ministry of textiles in 1993-94. There is something about this place that tourists or local people of the place effortlessly get fascinated by this shop. They have the ISO marked good quality products which are of international standard and accessible in different parts of the world. Must visit this place when you are in Manali.
Location: Bhutti Colony, Siyal, Manali, Himachal Pradesh 175131
Timings: 10 AM-8 PM
Specialty: Various Handloom products