5 Spots To Try Paragliding In Manali To Taste The Thrill And Thunder All At Once In 2022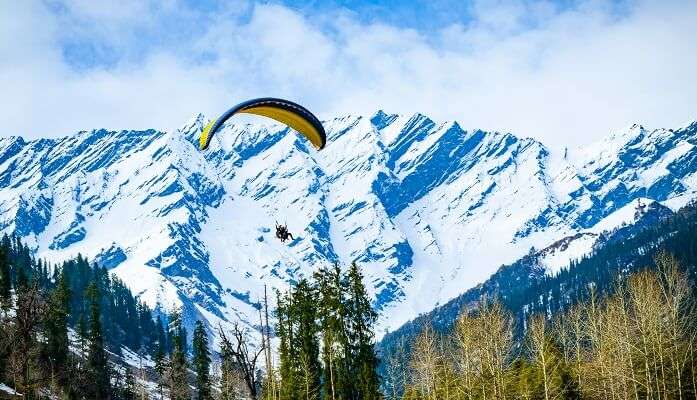 5 Best Places For Paragliding in Manali
If you are on a lookout for the best places for paragliding in Manali then we have prepared a list for you to take a quick glance at and choose what suits you best.
Solang Valley
Fatru
Bijli Mahadev
Kangra Valley
Marhi
1. Solang Valley
Solang valley is well known to offer a complete taste of this adventure activity. A mere 15km from Manali, Solang valley is favoured by most tourists who wish to try their hands on paragliding in Manali. The magnificent view and lush greenery adds to the charm, making it perfect for paragliding in Manali. Soar up in the sky with the help of experienced instructors who will guide you through the activity, as well as its do's and don'ts.
Duration: 20 minutes
2. Fatru
The location provides one of the best paragliding in Manali experiences to look forward to. Considering the conditions prevail right, this place is preferred by individuals who enjoy a longer flight time. Fatru is a decent option for people who are more experienced and have tried paragliding a few times before, for shorter durations. The spectacular view from the sky is as ravishing as can get and makes the experience worth your while. The experience gives such a great adrenaline rush, making you feel high on self-accomplishment.
Duration: 30 minutes
3. Bijli Mahadev
What is known about this place is that it is one of the most famous treks in Manali. What is unknown is that it is even more amazing and awe-inspiring when it comes to paragliding in Manali which is prefered the most. Located in Kullu Manali which is surrounded by Parvati Valley range and covered with beautiful and colorful flowers which make for a sight to behold, it is a spot framed for Bijli Mahadev.
Duration: 20 to 30 minutes
4. Kangra Valley
Adventure junkies are often drawn to the paragliding adventure at the Bir Billing stretch. The flight takes off from the spectacular sight of Bir while landing takes place at the dainty region of Billing. The place is filled with adventure seekers between the months of August to November. During these months, the yearly Himalayan paragliding pre-event is also conducted. As you glide in the sky like a free bird, you can indeed enjoy the true beauty of the Kangra Valley.
Duration: 15 to 30 minutes
5. Marhi
Another one of the famous spots for paragliding in Manali, Marhi is very popular among tourists and why not! Offering stunning views of the Dhauladhar Range, Marhi is indeed amazing. The views you will have while paragliding here are impressive and unforgettable and you will keep coming back for more. Situated at a height of about 3360 meters, Marhi is what you were looking for.
Duration: 20 minutes
Tips For Paragliding In Manali
Make sure to carry appropriate government-issued documents that prove your identity, like your passport or ADHAAR card.
It is better to keep a local guide and an experienced paraglider who can communicate and assist you as well as can communicate with the local people. It makes easy for you to communicate with the local people and people of different communities. Also, it assures you to have a safer paragliding experience.
Follow the instructions of the experienced paraglider carefully to have a safe journey.
Check the equipment provided thoroughly before starting your ride.
Carry your own sleeping bags, yoga mats, tents, water bottles etc. you might need if you are planning for a trip of paragliding around several places around Manali
Although there are ATMs, the availability of ATMs becomes less frequent as you move away from the city area, so make sure you have enough cash on hand at all times.
Take your own first aid kit with you and don't forget to take your regular medicines with you. Keep medicines for common cold and fever with you all the time as the weather is very different.
As you are travelling from Mumbai, take care of the weather. Be sure that it is not rainy.
Altitude sickness is something that is likely to affect you as you go higher up the mountains—the lack of oxygen and changes in air pressure may cause nausea, dizziness and in rare cases, pulmonary oedema! Make sure you check with your doctor first and go slowly