13 Best Places In Manali For Honeymoon Couples Visiting The Hill Station In 2022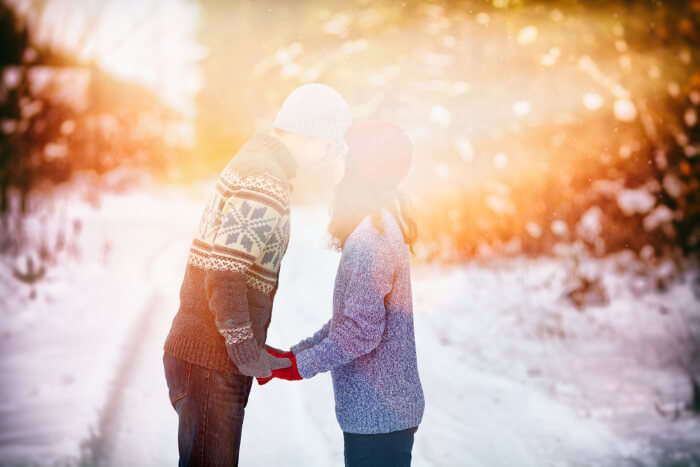 Weather In Manali
Most of the travelers are familiar with the weather in Manali and it does not come as a surprise to them. All around the year, the weather remains pleasant and perfect for sightseeing and for indulging in activities. Due to this, Manali has become of the favorite destinations for almost everyone, whether families, backpackers or friends. You can either enjoy the beauty of this place in the summers when the land is covered with foliage or you can either spend a romantic time in the winters when the whole Manali is covered with a sheet of transparent snow. Below is the list of the temperature in Manali –
Summer: The season starts from March till June and the average temperature ranges from 10°C to 25°C.
Monsoon: July marks the onset of the monsoon season and the temperature hovers in between 11°C to 15°C.
Winter: The winter season begins in October and ends in February with temperature ranging from -2°C to 10°C
13 Best Places In Manali For Honeymoon Couples
Check out this list that has all the details about the best places to visit in Kullu Manali for honeymoon. Keep scrolling down and read along!
1. Hadimba Temple: Take Some Blessings
Snow covered hills and tall deodars guard this wonderful temple basking in the serenity of nature. The temple is dedicated to Goddess Hidimba who was the wife of Bhima and mother of Ghatotkacha. The 24 m tall standing temple is the perfect auspicious destination to begin a memorable honeymoon stint in Manali. The temple is 2 km far from the city center.
Location: Hadimba Temple Road, Old Manali, Manali, Himachal Pradesh
2. Vashisht Hot Spring: A Holy Dip
3 km from the city center, this nature's wonder is unique and picture-perfect with gushing streams setting the frame. Vashisht Hot Water Spring is located by the river Beas and it's natural hot-water makes it a fascinating spot among tourists. Go spiritually rejuvenate yourself at one of the best Manali honeymoon places!
Location: Manali Tehsil, Manali
3. Jogini Falls: Time For Some Nature Therapy
Reaching this cascading delight shouldn't take you more than 15 minutes from Vashisht Temple. One of the prime attractions in Kullu Valley, Jogini waterfalls is a short trek that exhibits the best of nature. The perennial waterfalls cascade and meet Beas river on their way down the valley.
You might also consider visiting Rahala Waterfalls in Manali
Location: Vashist, Himachal Pradesh
4. Van Vihar: Enjoy Privacy In Nature's Embrace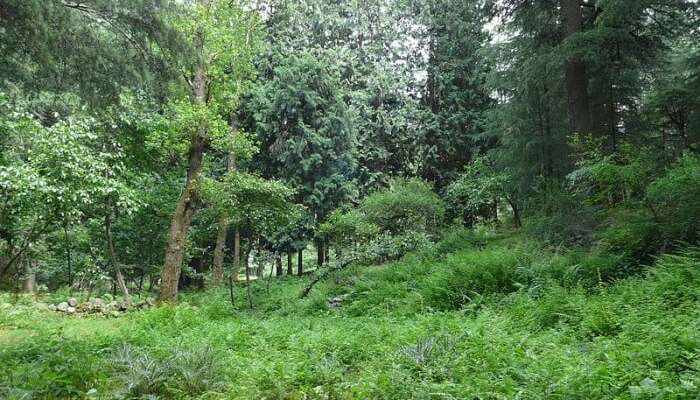 Van Vihar is located right behind the Hadimba Temple and is indeed an ideal place where you can relax, go boating, and spend moments at leisure. Considered as one of the best places in Manali for honeymoon, Van Vihar is a nature lover's favorite. Take out some time and explore this beauty of a place.
Location: Manali, Himachal Pradesh
5. Manali Wildlife Sanctuary: Perfect Date In Nature's Wilderness
Manali Wildlife Sanctuary has a thick cover of lush green nature spread over 3200 hectares and the exciting wildlife living in it makes things even more interesting for the couple. The park is located 2 km far from the city center. Prettified by colorful birds and other wildlife that belong to Himalayan habitat, this park shows the perfect glimpse of nature's wilderness. There are a few exciting trails inside the park that would present you uninterrupted nature views topped with romantic moments.
Timings: 9 am – 6 pm year around
Location: Circuit House Marg, Manali, Himachal Pradesh
These places are good enough to make your Manali honeymoon a memorable endeavor. If you are up for adventure, then keep a couple of spare days with you. And to make those days worthwhile, plan a stay at one of the best hotels in Manali for honeymoon.
Beautiful Places Near Manali That You Must Visit
More than best places to visit in Manali for honeymoon couples there are some exciting options around that are a mere few hours drive away and has plenty of adventure and excitement holding for you. These places are extreme and exciting in nature complete your Manali honeymoon. Traveling to high altitudes can take a toll on your body, so an overnight stay here can be a good idea.
6. Rohtang Pass: So Spotless, So Romantic
Rohtang Pass is accessible by road and a must-visit attraction from Manali. The 2-hour ride to Rohtang is full of verdant views of snow swept mountains in the Greater Himalayan region. The great outdoors of Rohtang Pass is perfect for snow activities. Time to buy yourself some real moments of the thrill as your honeymoon turns into eternal bliss.
Heli-Skiing, zorbing, and snow-scooter ride are some of the popular activities to choose from as you are planning to make the most of your trip to Rohtang Pass.
Distance from Manali: 51 km
Recommended for: Day tour
7. Kullu Valley: 360-Degree View At Its Best
A honeymoon in Manali can't be complete without a trip to Kullu Valley. Nature and its majestic views all around show up like a painting on a canvas as you lose yourself in the moment. Kullu valley is the right place to get yourself some heavy dose of adventure. River rafting, trekking, and mountaineering are the activities to choose from. Make your honeymoon in Manali an exciting one with a trip to Kullu.
Distance from Manali: 40 km
Recommended for: One night stay
Suggested stays: Hotel Kullu Valley, Apple Valley Resort, and Neeralaya
8. Gulaba: Perfect Substitute To Rohtang Pass
Considered as a popular pitstop for travelers, Gulaba village falls en route Rohtang Pass. Gulaba is a popular spot for tourists where you can plan a romantic outing with your beloved. This place is also considered as a popular substitute to Rohtang Pass for skiing. Gulaba acts as one of the crucial spots when you are stuck deciding between Shimla vs Manali honeymoon. Also, when Rohtang is inaccessible, it is Gulaba that you can still count on.
Distance from Manali: 20 km
Recommended for: Day tour
If you are looking for a longer stay, here are a few hotels and resorts for your consideration!
Suggested stay: Solang Valley Resort, The Katoch Grand Resort, and Chichoga Holiday Inn
9. Naggar: The Timeless Beauty
Naggar is a popular tourist attraction that every couple traveling to Manali must explore. The place is known for its huge castle, full of art and miniature paintings. The art-rich place thrives by the banks of the river Beas and is one of the interesting places near Manali for honeymooners.
Exceptional views and sweeping landscapes around setting things up perfectly for a dreamy honeymoon. Watch out for paintings inside the Naggar Castle that present the Himalayas like never before. Tripura Sundari and Gauri Shankar temples in Naggar are must-visits.
Distance from Manali: 19 km
Recommended for: One night stay
Suggested stay: Hotel Castle Naggar – one of the offbeat stays in Himachal
10. Kothi: A Quaint Corner For You & Your Beloved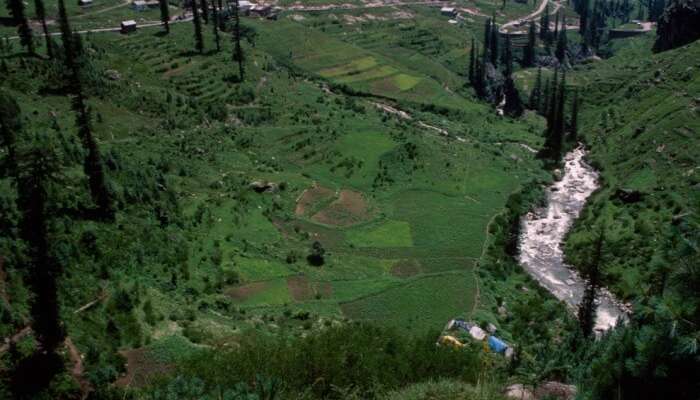 Another scenic spot in the vicinity of Manali which is just a 30-minute drive away. Kothi has verdant views and snow-capped mountains that are so pristine that you would long to watch it forever. The village is one of the best places in Manali for couples. A perfect secluded spot to spend moments of quietude on a honeymoon!
Distance from Manali: 14 km
Recommended for: Day tour
If you are planning a longer stay here are a few stay options you might consider exploring.
Suggested stays: Solang Cottages and The Clifftop Cottages
11. Manikaran Sahib Gurudwara: Seek Blessings For Your New Life
This mighty gurudwara is the highlight of the tiny town of Manikaran and is located in the Parvati Valley right along the banks of river Parvati. It is an essential pilgrimage destination for both Sikhs as well as Hindus that visit Manali, Kullu and nearby areas in Himachal. The religious rituals, hot springs, natural steam baths, along with the beautiful surroundings of this area attract pilgrims and travelers from near and far. It's surely among the best places to visit in Manali for couples who wish to start this new phase of their lives with the blessings of the Almighty.
Distance from Manali: 79 km
Recommended for: Worshippers, peace-seekers
Suggested stays: Hotel Shivalik, Hotel Parvati Valley
12. Solang Valley: Touch The Skies With Paragliding
Solang Valley is among the most famous tourist destinations in Himachal Pradesh and is situated on the way to Rohtang Pass. it welcomes a huge influx of tourists of every kind each year, including families with kids, couples, adventure seekers, and more. Some of the best activities that you can try here include paragliding, parachuting, horse riding, driving mini-open jeeps, riding ATV scooters, zorbing, skiing and sledging (in winters). It is perhaps the best place in Manali for honeymoon couples whose idea of romance revolves around thrill and adventure!
Distance from Manali: 14 km
Recommended for: Adventure seekers
Suggested stays: Solang Valley Resort, Hotel Iceland Solang
13. Beas Kund: Trek To This Paradise
If you're looking for a rather adventurous honeymoon trip, you and your better half can together head out on the famous Beas Kund trek in Himachal. In fact, Manali serves as the gateway (starting point) of this trek, so it will be the perfect option for you two to quench your thirst for thrill and excitement. It's the perfect way for you and your bae to get away from the hustle and bustle of city life and feast your eyes on the astounding views of the Pir Panjal range as well as the spectacular meadows of Dhundi and Bakarthach. Camping by the scenic Beas Lake with a bonfire and a starry sky will surely be the most romantic experience for you and your partner.
Distance from Manali: 20 km
Recommended for: Thrill seekers, couples
Suggested stays: Camping
Manali Honeymoon Tips
Try and visit in the winter season for an awesome weather, stunning views, and total seclusion.
Choose to travel by road for utterly beautiful views of Himachal that you'll get on the way.
Pack according to the weather. It tends to be really cold here.
Keep an extra pair of clothes that you can use in case it rains.
Don't forget to carry a flashlight and insect repellent.
Carry cash instead of relying on ATMs and cards.