River Rafting In Gangtok : Plan Amazing Adventure In Teesta River .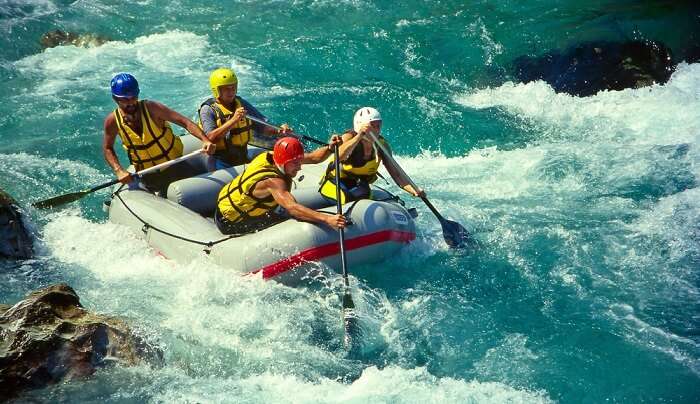 Best Time For River Rafting In Gangtok
Those of you who are planning to go river rafting in Gangtok, it is essential that you identify the best time to do so. River rafting is a serious and risky sport to indulge in, and therefore it is important to choose the right time. We suggest that you should go river rafting in Gangtok between the months of March to May. After several months of experiencing bitter and freezing cold, March is the month when spring arrives in Gangtok. It provides a whole new makeover to the entire valley and Himalayas. The mornings are a bit warm but the nights are chilly and cool on a regular basis. During this time, the water is not chilling cold, but still, you need warm clothes inside a waterproof jacket.
The temperatures are anywhere between 8°C to 20°C that makes it more manageable. This is the time when spring is spread across the landscape. The river flows rapidly during this time, yet it is not too rugged which makes it ideal for rafting. If you want to travel to different attractions in Gangtok other than doing river rafting, even then, this is the best time to visit this capital city.
Best Place For River Rafting In Gangtok
When you are planning for rafting in Gangtok then the Teesta river is the best place to do so. The Teesta is the main river that is flowing through Gangtok and that is why tourists visit the Teesta river in order to experience the thrill of this fantastic adventure sport. As you raft down the Teesta river, you will be mesmerized to witness the beautiful dense forests that come down along the mountain slopes and lush vegetation all around. Wide range of birds, fish and animals can be seen in the route of the Teesta. River rafting in Teesta is absolutely ideal for those who want to do paddle rafting and also oar rafting. This brings a brand new excitement to all the adventure lovers in Gangtok.
The sparkling and frothing water of the gushing river makes way for the most ideal route for white water rafting in this region. The most popular river rafting route in Sikkim is – Makha – Sirwani – Bardang – Rongpo on the Teesta River and Sikip – Jorethang – Majitar – Melli on the Rangit River, a tributary of Teesta. These two rivers facilitate best river rafting near Gangtok.
Tips On River Rafting In Gangtok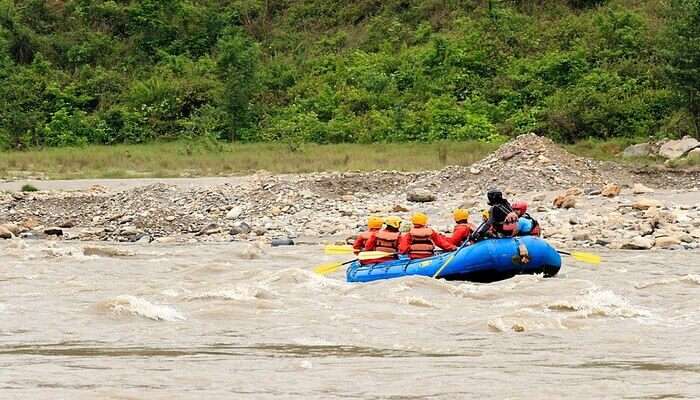 River rafting in Gangtok is a really great adventure to take part in. But there are some important things you need to know about before you plan for undertaking it. Beginners along with experienced river rafters will need to take the assistance of the Department of Tourism and travel agents to go on a river rafting trip. There are several agents whom you can find around different points of the route. You can even get a trip booked from your hotel as well. Always remember that the prices are negotiable and make sure to check if they are providing food, helmets, life jackets and other safety equipment.
Many of the agencies also offer you training before the arrival of the final day. Due to the presence of a series of rapids and high-intensity flow, the river rafting route in Teesta has been graded between 2 – 4 on the scale. So, that means you have to negotiate the intensity that can be from the bare minimum to Grade 4 i.e. serious and large rapids. Choose which grade you are comfortable with and then proceed with the trip.
Cost Of River Rafting In Gangtok
The prices of river rafting in Gangtok varies on the duration, location and type of rafting you have selected. However, the estimated cost of rafting in Gangtok price is anywhere between Rs. 3000 to Rs. 5500, per person. You need to contact your trip organizer for more details.
What To Pack For River Rafting In Gangtok
You must be absolutely prepared when you go for the river rafting trip to Gangtok. There are several things that you will need to carry before travelling to Gangtok for river rafting. You need to make sure that you have well maintained rafting boots or shoes that come with good grip. Without the right grip, you will always be at the risk of slipping on wet surfaces. You need to carry a waterproof jacket in order to keep your clothes dry and warm. Many people also carry waterproof gloves for a better grip on the oar.
If you are wearing a watch, be sure that it is water-resistant. Do carry your sunglasses, a water bottle and a small first aid kit in your bag. Since the temperature of Gangtok will be soothing during this time, you can pack casual t-shirts and shirts when you are going sightseeing. Also, get yourself a light jacket to keep warm during the evenings when the temperature usually falls.