Nightlife In Gangtok: Visit These Electrifying Nightclubs And Casinos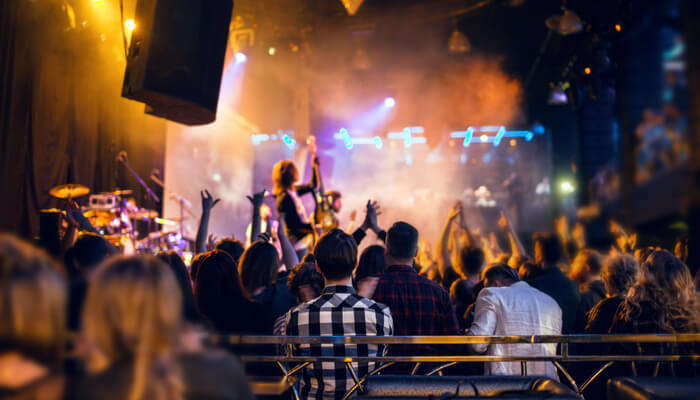 10 Amazing Experiences Of Nightlife In Gangtok
Take a look at this terrific checklist of the most popular nightclubs and bars in Gangtok which all partyholics should explore on their vacation in this impeccable city! Keep scrolling down and read along!
Cafe Live & Loud

Pub 25

X' Cape

Lounge 31A

After Dark Gangtok, Sikkim

Casino Deltin Denzong

Club King B

Infinity Futsal

Home Ground Sports Bar

Casino Mahjong
1. Cafe Live & Loud
All the live music fans, Cafe Live Loud is totally your kind of place. Counted among one of the best places to enjoy the nightlife in Gangtok is this cafe which is so much more than just a cafe. Live music, flavorsome dishes, lip-smacking cocktails, and an energetic crowd is what you will get as soon as you step into Cafe Live Loud. This place organizes Dj Parties on Thursdays and Fridays where you can dance as much as you want to. Mondays, Tuesdays, Wednesdays, Saturdays, and Sundays are basically the days when famous bands play at this cafe! Do visit Cafe Live Loud on your vacation to have the best night of your life!
Timings:

11 AM – 11 PM


Address:

Enchey Compound, Tibet Road, Power Secretariat
3. X' Cape
Get ready to be lured by stunning interiors, loud music, scrumptious starters, luscious cocktails and locals who are quite friendly and are always up for fun and showing off their dance moves! The Dj plays the latest songs and all you need to do is to get up and dance till your drop. Do try the delicious snacks freshly prepared at this popular nightclub!
Timings:

4 PM-Midnight


Address:

Vajra Cinema Hall, Baluakhani Road, Sungava, Gangtok
4. Lounge 31a
One of the best spots to witness the nightlife in Gangtok in Sikkim, Lounge 31a is known for its flashy lights, sassy crowd, and refreshing cocktails. If you are a person who loves hookah then you must visit this lounge. Every Saturday and Sunday there is a DJ party organized where you can meet new people and party till the sun comes up. Do try the fantastic drinks prepared by the bartenders like Bloody Mary, and Virgin Mojito.
Timings:

10:30 AM to 10:30 PM
Address:

Zero Point, NH31A, Gangtok, Sikkim 737101
5. After Dark
After Dark Gangtok, Sikkim,

as the name suggests, this nightclub in Gangtok comes to life after dark. A great place to enjoy

nightlife in Gangtok Sikkim

, one can add it to their list of places to visit in the evening. After Dark is a great nightclub to visit with a group of friends. The music is groovy and the food is tasty. All in all, it is a great place to chill in Gangtok. Head here with a group of friends and have a great time there.
Timings:

7 PM – 1 AM (Friday to Sunday)


Address:

Paljor Stadium Rd, Gangtok, Sikkim 737101
6. Casino Deltin Denzong
I
f you thought casinos in India are only limited to Goa, then you are mistaken as there is one in Gangtok too. Casino Deltin Denzong is a great casino here which promises complete entertainment and hospitality. The Deltin Group is a group of Indias largest resorts and offshore casinos and makes for a great place to spend an evening. So, if you are looking for ways to enjoy the

nightlife at Gangtok

, then head to Casino Deltin Denzong and have a fun time trying your luck at the casino.
Timings:

Open 24 hours


Address:

Denzong Regency, Cherry Banks, Gangtok, Sikkim 737101
7. Club King B
Another electrifying place to catch the true glimpse nightlife in Gangtok is by visiting Club King B. The club is growing popularity these days and is emerging as a hub of party lovers. Great music, exclusive menu, comfortable set up, and perfect lighting makes this place an awesome experience!
Timings:
5:00 PM to 12:00 AM
Address:

Mayur hotel, Gangtok
If you are a football lover then Infinity Futsal in Gangtok is surely a place for you to hangout! As football is a popular sport in Gangtok, the club is a place where you can interact with locals and know the emerging trends in the sport. They have fully stocked bar and serve freshly cooked recipes. Don't forget to try thin crust pizza here.
T

imings:
11:00 AM to 11:00 PM
Address:

Infinity Futsal Arena,H#169, NH 31A Upper Tadong, Tadong Gangtok, Sikkim
9. Home Ground Sports Bar
So watching a football match on big screen while enjoying your favourite beer with your friends is something that this bar in Gangtok offers you.

Another delightful hangout hub for sports lover is Home Ground Sports Bar that offers the best partying experience especially to football lovers. With portraits of prominent football players on walls the club also offers delicious food and exclusive cocktails.
Address:

Homeground Night Club, Tara Palace, Nam Nang Rd, near Big Bazar, Gangtok
10. Casino Mahjong
How about going to a

casino in Gangtok

? It is one of the biggest five star onshore casinos in India that has been established in Gangtok by Mayfair Spa and Resorts in Gangtok.

The place is a delightful spot for card game enthusiasts who would love to exhibit their poker skills.
Timings:

Throughout the day
Address:

Casino Mahjong, National Highway 31A, Lower Samdur Block, Ranipool, Sikkim