Gangtok Food: 5 Scrumptious Dishes To Try on Vacay!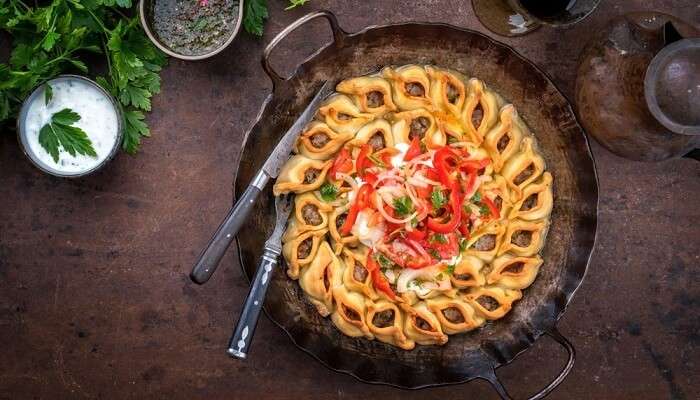 Gangtok Food: 5 Must Try Dishes!
Gangtok is considered as one of the best destinations for all the foodaholics and if you are looking for a new destination where you can dive into the authentic flavors of the local food, then you must pay a visit soon and do remember to try the tastiest Gangtok food dishes!
1. Dumplings
From the local stalls to the chic restaurants, Dumplings are one of the dishes which is served throughout Gangtok and Sikkim. Dumplings are of Tibetan origin and are famous amongst all foodaholics. Momos have basically two parts, the filling, and the covering. The covering is made from a preparation of a mixture of dough and water and the filling is either of vegetables or chicken pieces. A special dip is made and is served with the dumplings. Momos are one of the best food in Gangtok which you must try! The best spots to try dumplings are the Roll house and the Taste of Tibet.
2. Thukpa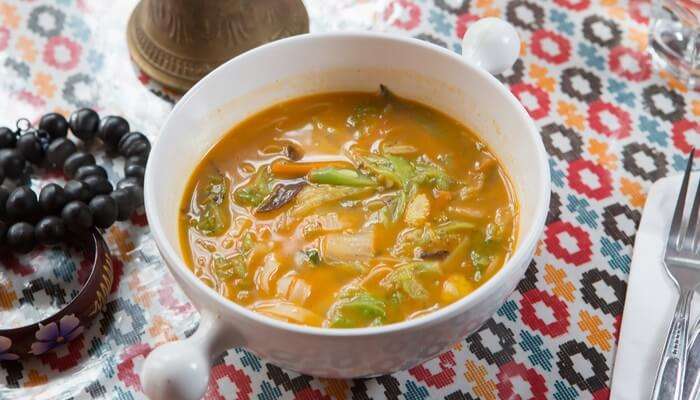 Thukpa is another popular dish served in Gangtok and is also of Tibetan origin. A warm soup with noodles and vegetables or chicken pieces, Thukpa is one of the Gangtok food dishes that you will surely fall in love with. Tibetan food is available throughout India but gorging on the authentic food served in Gangtok is one of the essential things you should do in Sikkim. If you are a vegetarian then you can order Thupka with vegetables. The vegetables used in this dish are mainly grown in Gangtok and other vegetables like carrots and bell peppers are finely chopped and used in Thupka. If you are a chicken lover then you should go for the Chicken Thupka! Different flavors of Thupka are also available at the famous restaurants which you must try! The locals mainly like the authentic Thupka which has the basic herbs and spices in it.
3. Phagshapa
For all the foodies who are madly in love with pork, Phagshapa is one of the local food in Gangtok which you have to try on your vacation. The perfect blend of a lot of radish and pork, Phagshapa is suitable for all the health freaks as it is literally made without using even drop of oil. This dish is not so popular but is a traditional Sikkimese dish which the locals will surely suggest you to try on your trip! Head straightaway to the Golden Dragon Hotel in Gangtok and get ready to satisfy your stomach with this scrumptious dish!
4. Sha Phaley
Already feeling hungry- The next Gangtok food dish on the list will make you drool for sure! Meat, bread and deep-fried are three heavenly words which are properly blended together and they create a mouth-watering dish called the Sha Phaley. Being one of the most famous local food in Gangtok, Sha Phaley is a dish which you must add to your list right away. A Tibetan dish prepared by stuffing the bread with seasoned beef and freshly chopped cabbage, Sha Phaley will surely leave you wanting for more and more. The stuffed bread is deep-fried and then served with special dips which add to the taste of it. All the vegetarians, don't worry! There are different variations of this with cottage cheese and tofu also available for you. All you need to do is to step in the Roll House in Gangtok and order this marvelous dish!
5. Chocolate Dumplings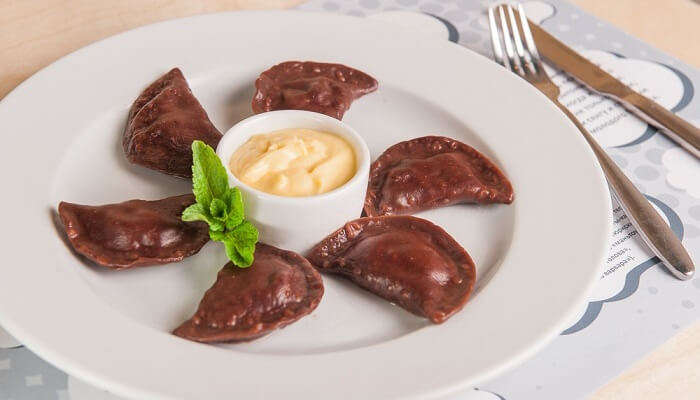 The last and the best one on this list is for the travelers who have a thing for desserts! Get ready to make all your wishes come true. Are you a lover of dumplings and chocolate- If yes, then you will be glad to know that now you can get the taste of both at the same time in one dish. Guess what is it called- This delectable Gangtok food dish is called the Chocolate Dumplings and all of you who are all fascinated by its name must try it in Gangtok!