20 Darjeeling Food Dishes That You Must Try To Know This City's Heart!
Top 20 Darjeeling Food Dishes
Food is an inseparable element of culture! And if you love getting close to the cultural side of the destinations your visit, knowing and tasting the food dishes of those places would certainly help. Here are some of the most loved Darjeeling food that you must also taste to know the heart of the city:
Kwati is one of the most popular food dishes in Darjeeling. It is a traditional Gorkha cuisine dish which you would easily find in the city. Kwati is basically a mixed soup which is made by boiling 9 different varieties of sprouted beans. Some spices are also added to the soup to lift its flavor and to form a thick liquid. This is a highly delicious and nutritious veg food in Darjeeling. High in proteins, the consumption of this traditional Nepalese dish is more during the festival of Gun Punhi. It is the full moon day of the 10th month in the Nepal Era lunar calendar, called Gunl. Don't forget to ask them for their Darjeeling food recipes!
Where to eat: Budget restaurants on Gandhi Road and Nehru Road
Aaloo Achar is a must among the dishes served on the thali in Darjeeling. The taste of Aaloo Achar will appeal to any traveler, no matter which part of the country they are coming from. This dish is made of boiled potatoes that are finely chopped into pieces so that they catch the flavor of all the spices they are mixed with. Onions, radishes, cucumbers support the flavors in the background. Whereas fine paste of local chilies, mustard seeds, sesame seeds, and fenugreek seeds take up the center stage. Aaloo Achar is a spicy and tangy potato dish that you wont be able to resist.
Where to eat

: Hasty Tasty, Nehru Road
Sel Roti is a famous food in Darjeeling and is basically a mildly sweet ring-shaped bread. This homemade rice bread is very similar to doughnuts. An origin of the Indian subcontinent, this traditional food is prepared mainly during the festivals of Dashain and Tihar which are among the most significant celebration in the Hindu tradition. These festivals are primarily observed in Nepal and north-eastern parts of India including Sikkim and Darjeeling.
Where to eat: Fiesta Restaurant, C/O Pineridge Hotel
Pork Curry is among the most popular non-vegetarian dishes of Darjeeling food. This mouth-watering gravy dish is prepared in various recipes including Pork Chilies, Phagshapa, and barbecued pork. But the basic way of cooking this dish involves cooking of pork meat in oil with various spices. Pork Curry is best served hot with steaming rice or local drinks.
Where to eat:-Kunga Restaurant and Penang Restaurant
5. Tibetan Thukpa
Thukpa in Darjeeling is a well-known dish and a traditional Tibetan food. The popularity of this dish has crossed borders and has even reached the cities like Delhi where they served and eaten with the same love. The dish became an inseparable part of the Darjeeling food with the migration of Tibetan refugees into the city. Thukpa is basically a form of noodles served in a meat soup. The soup also contains stewed meat, vegetables and is garnished with fresh spring onions and chopped coriander. Available in different forms, Amdo Thukpa is a popular variant. Originated in Tibets Eastern region, Thukpa in Darjeeling is now a major dish in neighboring countries of Nepal, Bhutan, and many northeastern Indian states of Sikkim, Assam, Nagaland, and Arunachal Pradesh.
Where to eat: Dekevas Restaurant, Nawangs Restaurant and Kunga Restaurant
6. Gundruk
Gundruk is one of the best foods in Darjeeling and popular food in Nepal. It is prepared with fermented green leafy vegetables such as mustard leaves, and spinach. This is also one of the most common dishes in the region and therefore is a must try for travelers exploring food on their Darjeeling tour. Gundruk is rich in iron and other minerals.
Where to eat:-Kushal Restaurant and Nostalgia Hotel
7. Aaloo Tama

Aaloo Tama is an interesting and highly flavorsome curry prepared with potatoes and the fermented bamboo shoots. The potatoes are cooked in hot oil and spices are added to it. After this, fried bamboo shoots go in. Finally, garlic, tomatoes, and lemon are added to the mixture. This dish will lead to a burst of flavors inside your mouth. Make sure you try Aaloo Tama when you visit Darjeeling.
Where to eat: Budget restaurants on Gandhi Road and Nehru Road
8. Dal Bhat
Dal Bhat is a traditional dish in Darjeeling and cannot be missed out from the list of most loved Darjeeling food. Popular in many parts of Nepal, Bangladesh and India, the recipe for this dish originated in the Indian subcontinent. It is also a staple food in these countries. Dal Bhat is prepared with steamed rice known as Bhat and cooked lentil called Dal. It is a main dish in the traditional Nepali thali and is served along with other curries, chutney, and salads. The recipe includes flavors of onion, ginger, garlic, chili, tomatoes, and tamarind.
Where to eat:-Hotel Lunar, Nanking Restaurant, Hasty Tasty, Nawangs Restaurant and Glenary's
9. Sekuwa
It is hands down one of the best foods in Darjeeling. It is basically meat barbecued with tangy spices and aromatic herbs to give it a distinct flavor. The meat could be of lamb, chicken, pork, mutton or beef. Making the Sekuwa is pretty simple. First, you have to mix the meat with natural herbs, spices, and other required ingredients. Once that is done, you have to roast the meat on fire. It is ready to be served. You can eat it with chutney or pair it with roti.
Where to eat: Chopstick Restaurant
10. Gobi
Gobi is one of the most popular foods in Darjeeling. It is prepared using cauliflower and spices. The spices are a distinct mix of different Indian and Tibetan spices. You will relish this dish. The curry is cooked in typical Nepalese style. It is served with chapati or rice. The locals of Darjeeling prefer chapati. It is usually served in Nepalese thali. You can gorge on this dish when you're out with your friends and family on a family vacation.
Where to eat: Hotel Lunar
11. Kheer
Who doesn't like to gorge on dessert after their meal- We are sure everybody does. Kheer is one of most significant Darjeeling foods. You will relish this Tibetan style dessert. It is a traditional dessert made using boiled rice with milk. Further, sugar, large cardamoms, pistachios, raisins, and almonds are added to the sweet dish. You will absolutely love having this sweet dish.
Where to eat: Budget restaurants on Gandhi Road and Nehru Road
12. Keema
Keema is a traditional dish in Darjeeling. The English name for it would be minced meat. The dish is prepared using minced meat with peas or potatoes. Butter, onions, garlic, ginger and spices is also added to this dish to make it more flavorsome. It is considered one of the best dishes prepared in Darjeeling. You will have the time of your life gorging on this delicious treat.
Where to eat: Blue Ginger Restaurant
13. Noodles
Noodles can quench your hunger and fill your stomach for a long time. This dish is found in all the restaurants and food stalls. You will have a ball of a time eating this dish. The noodles are made of wheat. They are tossed with vegetables, meat or eggs to prepare a delicious dish. They are also tossed in different spices. They are delicious and tangy and perfect for eating after a rain.
Where to eat: Kunga Restaurant, Dekevas Restaurant, Kunjini Restaurant, The Park Restaurant
14. Phambi
This is quite a famous street food in Darjeeling which is made of Mung beans and makes a best serve to taste the authentic cuisines of the state. To make this dish the beans are turned into liquid powdery form which is made into steamed cakes and cut into smaller pieces. Later it is lightly fried and served with red chilly sauce which completes the dish.
Where To Eat: Nanking Restaurant, Kunga Restaurant
15. Wachipa
This is a local Nepali non-veg dish which is made of minced chicken, fine quality rice and the powder formed of burnt feathers of a chicken. This powder is the key ingredient which adds a unique taste of bitterness in the dish. According to the locals it is believed that the Wachipa can cure body aches.
Where To Eat: Kunga Restaurant, Penang Restaurant
16. Shyaa Phaley
This is a delicious Tibetan dish which is made with flatbread stuffed with seasoned beef or any other variety of meat which suits the preferability. Given a circular or semi-circular shape, this dish is deep fried and served hot and sizzling alongside a spicy chutney and soup.
Where To Eat: Nanking Restaurant, Kunga Restaurant
17. Aaloo Dum
This is a spicy Nepalese dish which is made of boiled potatoes and given a spicy flavour to relish. The basic procedure includes boiling the potatoes and cooking them in hot oil with cumin, garlic paste, onion and red chilies powder. Later it is served with seasoned and freshly chopped corianders alongside rice.
Where To Eat: NA
18. Ninguro With Churpi
This is a delicious and mouth-watering dish which is quite a favorite among the locals in Darjeeling. Considered to be one of the best foods in Darjeeling, this dish is made of local fiddlehead fern and churpi (cheese). This local delicacy is available in a very few restaurants.
Where To Eat: Kunga Restaurant, Penang Restaurant
19. Sausage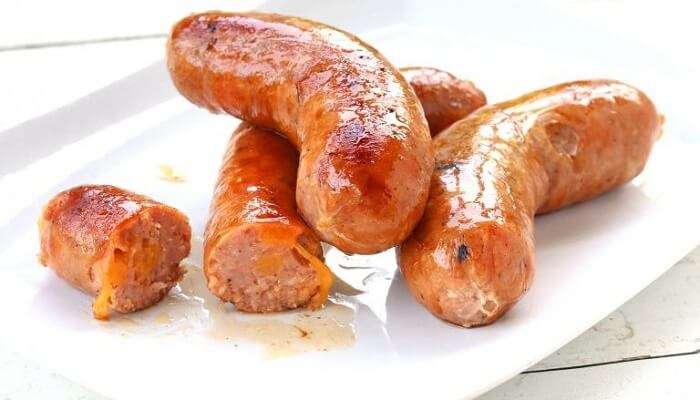 The sausage is quite a homely dish which is made of ground meat of beef or pork which is flavored with salt and spices along with other flavourings. Later the breadcrumbs and the meat is stuffed in a clean intestine. Appears in the shape of a cylinder, this is one of the famous foods in Darjeeling which can be cooked in many ways.
Where To Eat: Sausage king, Glenary's Bakery, Restaurant and Pub
20. Momo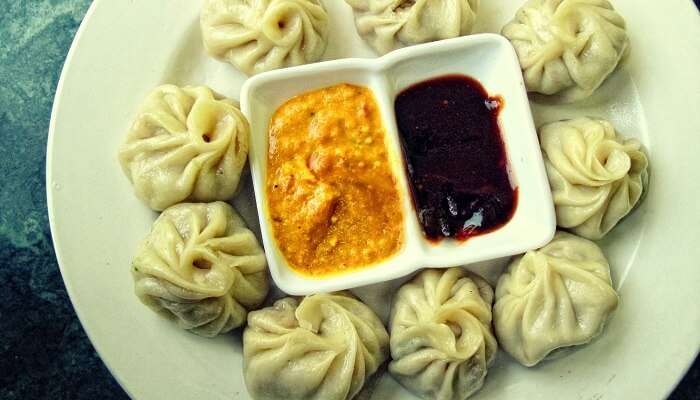 This is a famous Chinese-Tibetan cuisine dish which is prepared with minced meat or vegetables filled in a flour dough. Considered to be one of the most traditional dishes in North-east India, this dish is commonly served with chutney and soup.
Where To Eat: Darjeeling Tandoori Momos, Darjeeling Momos